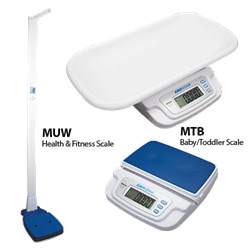 Adam offers a full complement of health and fitness scales to monitor the weight of adults, toddlers and babies.
Perth, Western Australia (PRWEB) July 16, 2014
Adam Equipment, a global provider of balances and scales, today announced availability of its MUW ultrasonic health and fitness and MTB baby and toddler scales in Australia. With the addition of these two scales, Adam broadens its selection of health and fitness scales in Australia, which includes the MDW300L health and fitness scale, MXB20 baby scale and CPWplus scales.
Adam Equipment's MUW health and fitness scale combines elegant design with durable construction to automatically calculate BMI, height and weight. Ideal for any medical or health and fitness application, the MUW has a capacity of 300kg and provides ultrasonic height measurement up to 210cm.
The MUW simplifies collection of height and weight data by eliminating the manual process, which often leads to miscalculations and inaccurate results. Easy to operate, the scale lets users quickly measure height without requiring any physical contact with a patient. Ultrasonic technology senses the person's height. This is accomplished without intruding on a patient's personal space, making a more comfortable experience for users. BMI (body mass index) calculations are provided instantly and simultaneously on a backlit display that can be seen by the patient or operator. The scale offers the ability to output patient and physician identification information without breaching confidentiality.
Versatile and portable, Adam Equipment's MTB baby and toddler scale offers excellent value for pediatricians and other healthcare providers. With a capacity of 20kg, this scale boasts the ability to weigh newborn babies and toddlers on the same instrument. The MTB features quick start-up and easy operation, so minimal training is needed.
A cleverly designed ergonomic cradle provides comfortable support for babies and locks securely in place. The cradle removes easily to reveal a non-slip rubber mat underneath, simplifying the task of weighing toddlers. The MTB's memory function retains the most recent weight taken, letting the user focus attention on the patient. Results can be recorded once the child is safely removed from the scale, minimising errors due to distractions. The high-contrast backlit LCD boasts 29mm-high digits and is easily visible from a distance or in any lighting conditions. ABS housing makes the MTB sturdy and easy to wipe clean.
With rugged construction and functionality, MDW 300L digital scale offers an affordable solution for health and fitness practitioners, and practical features for school locker rooms and gyms. This scale calculates body mass index (BMI) measurement and provides an adjustable height rod for precise height readings. With a built-in battery and wheels, the MDW 300L moves easily.
The MXB 20 baby scale provides a reliable, affordable way to weigh infants at home, in hospitals or pediatricians' offices. Its secure ABS plastic cradle offers convenience and safety, while the smooth contours help divert spills and hold the baby in place. Basic two-button operation makes it easy to use, while the large LCD quickly shows a precise reading and is sealed to ensure cleanliness.
The CPWplus series offers a choice of stainless steel platform sizes and configurations, offering exceptional value for weighing up to 300kg. Popular for monitoring the health of members in fitness facilities, CPWplus is compact and portable with an easy-to-read indicator that displays the weight. Ideal for bariatric patients, both the CPWplus M and CPWplus L versions boast large platforms. For ill or elderly patients, athletes recovering from injury, or anyone unsteady on their feet, the CPWplus W provides handlebars and wheels for convenient and secure weighing.
About Adam Equipment
For more than 40 years, Adam Equipment has designed and manufactured precision balances and scales for professionals worldwide in the laboratory, medical, education, industrial, food, animal/veterinary and jewellery markets. Adam is committed to offering an extensive selection of weighing equipment with best-in-class value. Headquartered in the United Kingdom, the company has strategically established offices in the United States, South Africa, Australia and China to provide product support and speedy delivery to distributors. For more information about the company and its products, go to http://www.adamequipment.com.