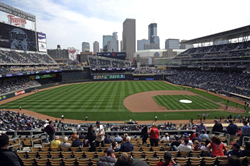 Denver, Colorado (PRWEB) July 15, 2014
As baseball heads into the All-Star break, the Oakland A's continue to dominate the power rankings with a 59-36 record. After the break, they face 52-42 Baltimore in their first meeting since Orioles' Manny Machado's suspension for bat-flinging.
"Currently, MLB Baseball is well past midway through the 162-game regular season with about 67 games left for each team. That's why we're proud to offer sports fans the most complete and continuously updated selection of discount sports tickets online, with a worry-free guarantee to protect their purchase," added Ault.
"To access the full line-up of cheap MLB Baseball tickets now available, including all of the seating options offered at each ballpark, customers can go to BuyAnySeat.com and click on the Sports Header, then MLB, and select their team and tickets."
The 2014 season began on March 31. This year's 162-game schedule, split equally between home and away games for each of MLB's 30 squads, runs through Sunday, September 29.
Originating in 1869, Major League Baseball or MLB constitutes one of the major professional sports leagues of the United States and Canada. It is made up of 30 teams—29 in the United States and one in Canada. With the International Baseball Federation, MLB also manages the World Baseball Classic.
Currently, there are 2,430 games played in a regular season, with up to 20 more played by each team in the post-season. The sheer number of games played, as well as the sport's 30 teams and American roots, gives MLB Baseball the highest season attendance of any sports league in the world. (Source: wikipedia.org)
The Major League Baseball All-Star Game, also known as the "Midsummer Classic", is an annual baseball game between players from the National League and the American League, currently selected by fans for starting fielders, by managers for pitchers, and by managers and players for reserves.
The game is meant to mark a symbolic halfway-point in the MLB season (though not the mathematical halfway-point which, for most seasons, is usually found within the previous calendar week). Both of the major leagues share a common All-Star break, with no regular-season games scheduled on the day before or the day after the day of the All-Star Game itself.
In all, 84 All-Star games have been played (including two games per year from 1959-1962), with the National League winning 43, the American League 39, and 2 ties. Since 1988 the American League has dominated, winning 18 of 23 with one tie, including a 13-game unbeaten streak (12-0-1) from 1997 to 2009. The National League ended their 13-year drought with a 3-1 victory in 2010 and won again in 2011 and 2012.
For this week's power rankings ahead of tonight's All-Star game, the Oakland Athletics have maintained their top spot, followed by the Los Angeles Angels at 57-37, Detroit Tigers at 53-38, Los Angeles Dodgers at 54-43, Milwaukee Brewers at 53-43, Baltimore Orioles at 52-42, Atlanta Braves at 52-43, Washington Nationals at 48-39, San Francisco Giants at 52-43 and Seattle Mariners with a 51-44.
To shop for discount baseball tickets, visit BuyAnySeat.com. To save even more, type in coupon code "BAS2014" at check-out.
About BuyAnySeat.com: An online discount ticket marketplace, BuyAnySeat.com connects sports, theater and other live entertainment fans to an extensive worldwide network of ticket sellers. The site's simplified listings and navigational tools enable fans to easily locate, compare and purchase inexpensive, discounted or lower-priced tickets to virtually all advertised sports and entertainment events around the globe.
The marketplace, which is PCI-compliant and Norton Secured, also provides customers with a complete Worry-Free Guarantee on all ticket purchases. Based in Denver, Colorado, BuyAnySeat.com is a subsidiary of Denver Media Holdings. For more information, please visit http://buyanyseat.com.