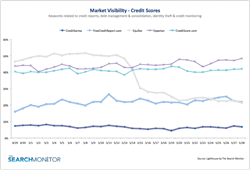 Changes in PPC market share are an indicator that a company is shifting their strategy, a move that could have significant consequences for the entire vertical.
Orlando, FL (PRWEB) July 15, 2014
The Search Monitor, the leader in providing precise, competitive ad intelligence to search and affiliate marketers, today released its SEM Industry Snapshot for the finance industry.
Within this industry, The Search Monitor analyzed May 2014 data on the following sectors: credit reporting & monitoring, debt management, identify theft, bill payment, debit & check cards, mobile and offshore banking, and online banking, among other important financial services.
A key component of the industry snapshot is the PPC Market Visibility Report which tracks changes in PPC market share over time. PPC market share is a combination of ad rank and frequency and can change suddenly for big companies. These changes are often a leading indicator that a company is shifting their strategy, a move that could have significant consequences for the entire vertical.
SEM Insights for the Credit Services Industry:

For the first 15 days of the analysis it was very clear who the leaders were in this category: Equifax, Experian, and CreditScore.com. Their PPC market visibility scores were all between 40% to 50% – very impressive, and also very consistent. In 4th place was FreeCreditReport.com, followed by CreditKarma.com wrapping up the top 5 spots.
On May 13th, one of the top 3 leaders–Equifax–showed a sudden and sharp decline in their PPC market visibility score, leveling out around the approximate score of FreeCreditReport.com. For the remainder of the May those two companies maintained almost identical scores.
The sudden decline could signify several things for a market leader. They could have shifted money into other marketing channels, lowered bids or reduced their keyword list, or simply run out of money too quickly in the month (not always a bad problem). In any event, a drop like this represents an attractive opportunity for the other industry leaders.
SEM Insights for the Banking Industry:

Bank Of America was the leader in PPC market visibility. Wells Fargo was typically 10 to 15 percentage points behind BofA, but closed the gap towards the end of May. Chase occupied the 3rd position with around 3%-5% market visibility.
The market visibility for both BofA and Wells Fargo showed a very high correlation with each other. Market visibility is a relative measure so these highly correlated patterns are more pronounced in verticals dominated by two main players. That is, when BofA increases its PPC market visibility, Wells Fargo can lose some of its score. And vice versa.
For more information on SEM trends in the finance industry, or questions about how to interpret and use PPC Market Visibility data, please visit http://www.thesearchmonitor.com.
About The Search Monitor
The Search Monitor monitors paid search, organic search, social media, mobile search, and shopping engines worldwide for brand and affiliate compliance, and competitive intelligence. Interactive agencies, search marketers, and affiliate marketers use The Search Monitor to gather and analyze competitive information more effectively. Visit http://www.thesearchmonitor.com to learn more.