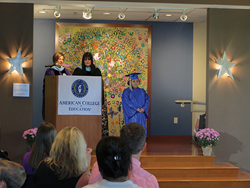 If all teachers could have Cindy's heart and desire to teach others, then we would be well on our way.
Dallas, TX (PRWEB) July 15, 2014
Little 6-year-old Cindy from Dallas is an artist extraordinaire who loves to learn new things. Cindy is battling a life-threatening medical condition, but that doesn't keep her from her goal to one day become a teacher. When Make-A-Wish volunteers asked what her wish would be, Cindy replied, "I want to be a teacher and help others learn to draw."
"We were thrilled to help Make-A-Wish North Texas grant Cindy's wish," said Shawntel Landry, interim president of American College of Education. "We all are educators, and this wish touches each of us here."
Last Friday, July 11, was the day that her wish would come true. A limousine carried Cindy, her family and her best friend, Andrea, to Sweet & Sassy Spa in Southlake for the best friends to have manicures, pedicures and hairstyles. The family then was treated to lunch at Las Colinas' The Ranch Restaurant before arriving at Make-A-Wish North Texas headquarters where Cindy would soon become an honorary teacher.
"We had everything we could think a young teacher would want to make her graduation ceremony special," Landry said. American College of Education provided a new dress and the graduation regalia for Cindy to prepare for her commencement. During the ceremony, Landry commented that teachers of every age are special to all of us and art is a language that crosses all cultures throughout the world. "Art is our foundation in education," continued Landry. "It is imperative for teachers to provide an outlet for children to visually express themselves and their emotions. We are happy Cindy will be teaching these important elements."
Cindy received her honorary Master of Art Elements degree and celebrated her achievement during a reception with her family and friends.
One of the founding principles at American College of Education is to improve the quality of education throughout the world. "If all teachers could have Cindy's heart and desire to teach others, then we would be well on our way," Landry stated.
American College of Education offers Master of Education, Specialist and Doctoral degree programs for teachers and other education professionals in addition to certificates and paths to licensure programs. The college is known for high academic standards, innovative programs and quality student support.
____________________________________________________________________________________
About American College of Education
American College of Education delivers affordable, online graduate programs that provide evidence-based content and relevant experiences to improve educators' knowledge, skills and performance.
http://www.ace.edu.
About Make-A-Wish North Texas
Make-A-Wish North Texas grants the wishes of children with life-threatening medical conditions to enrich the human experience with hope, strength and joy. Since their inception in 1982, more than 8,000 wishes have been granted throughout the 161 counties they serve. Their goal is to be a unique part of the treatment process. With doctors providing the medicine, and Make-A-Wish supplying the magic, they strive to create miracles in the lives of some very extraordinary children. For more information on Make-A-Wish North Texas, please visit http://www.ntx.wish.org.