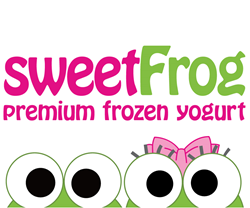 Richmond, VA (PRWEB) July 16, 2014
With more than 350 locations in the US, Dominican Republic and England, sweetFrog announces their expansion plan into Egypt. sweetFrog, the leading frozen yogurt chain, revealed today that the company has signed a development agreement with Vantage Egypt for Tourism & Entertainment, the Food and Beverage division of Halawa Group. The first two sweetFrog locations are set to open in Cairo by the end of 2014.
Vantage Egypt is a subsidiary of Halawa Group, one of the largest dairy producers in Egypt, with over 6,000 employees. Vantage Egypt owns and operates several restaurant concepts and international brands in Egypt.
"We are very excited to be partnering with Vantage Egypt and to have them representing the sweetFrog brand - they have substantial experience introducing successful international brands into the Egyptian market, as well as developing and operating multi-unit food outlets," said Vance Spilman, President at sweetFrog Enterprises.
"We are delighted with sweetFrog's accelerated growth across the U.S., which demonstrates ongoing strong demand for the brand, and we are very excited about the opportunity to bring the brand to the Middle East," said Ashraf Galal, Managing Director of Vantage Egypt. "Egypt will be a fantastic market for sweetFrog, the premium high quality product offering is unique and very relevant to our consumers who are looking for a premium frozen yogurt in a family-friendly environment."
sweetFrog is aggressively expanding throughout the United States and internationally. The company is actively seeking qualified franchisees throughout the U.S., and Master Franchisees or Country Developers interested in regions abroad.
About sweetFrog Premium Frozen Yogurt:
As the preeminent premium frozen yogurt retailer in the United States (recently named by The Daily Meal as "America's Best Frozen Yogurt"), sweetFrog provides an unparalleled experience with every cup of frozen yogurt. Since its 2009 founding in Richmond, Va. by entrepreneur Derek Cha, sweetFrog has expanded to over 350 stores, including international locations in the Caribbean and England. To learn more about sweetFrog, visit http://www.sweetfrogyogurt.com.
About Vantage Egypt for Tourism and Entertainment:
Vantage Egypt for Tourism and Entertainment was founded in 2006 and is the franchisee in Egypt for Papa John's, operating 27 locations. Vantage Egypt is a subsidiary of Halawa Group, founded in 1995, one of the largest dairy producers in Egypt, with over 6,000 employees.
Contact:
Alex Tosta
Phone: +1-804-893-3151
international(at)sweetfrog(dot)net