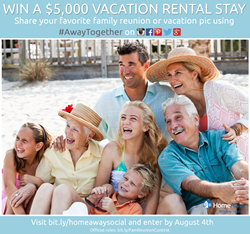 "Vacation rentals offer unbeatable savings for family reunions compared to booking multiple hotel rooms, eating out at restaurants and renting spaces for meals and gatherings," added Brian Sharples, HomeAway CEO.
Austin, Texas (PRWEB) July 15, 2014
In honor of July's National Family Reunion Month, HomeAway, Inc. (NASDAQ: AWAY), the world's leading online marketplace for vacation rentals, is releasing the results of the first "HomeAway Family Reunion Survey." In the survey, more than 2,000 Americans share how they plan and prepare for a family reunion, as well as their favorite activities while traveling with their extended family. The results also reveal family reunions are alive and well with 63 percent of respondents having been to a family reunion, including 29 percent having attended one in the past two years. Following are the insights from the nearly two-thirds of respondents who have attended a family reunion:
Families Crave Time Together — Without Cell Phones
As Family Reunion Month comes together, it's not surprising that among those who have gone to a family reunion, the most cherished memory is "spending time together" (81 percent). These travelers also want their relatives to put down the cell phone and grab a cookbook instead.

The top way to offend family members is "drinking too much" (28 percent), followed closely by "paying too much attention to your phone or tablet" (26 percent) and "being a cheapskate" (15 percent).
After spending time together, the most cherished reunion memory are "group meals" (60 percent), while more than half of respondents (51 percent) say "cooking great food" is the best way to impress family at a reunion.
Families Plan Six Months to One Year Ahead
Planning a family reunion and choosing the reunion location takes time. In fact, according to survey results, more than half (55 percent) travelers begin planning their reunion trip six months to one year in advance, making this month a good time to get started for next year's travels.

Results show the average family reunion trip lasts five days and is made up of eight adults and four children.
With reunion-goers citing "space to gather as a family" (54 percent), "separate bedrooms so everyone can have their own space" (38 percent) and a "kitchen for preparing and eating meals together" (33 percent) as the best amenities for bring the family together, it is not surprising that vacation homes (33 percent) lead all choices as the ideal accommodation for a family reunion.
Leave the Kardashians, Bring Fallon
As music, movies and laughter are important parts of any family gathering, HomeAway also asked travelers about their entertainment preferences.

25 percent want Jimmy Fallon to attend their reunion to "keep everyone laughing," whereas 24 percent want Jamie Oliver to "cook the meals" and 17 percent would choose Blake Shelton "to lead the family sing-a-long."
When asked which TV family best describes their family, Modern Family (28 percent) took the lead, followed by the Cosby Show's Huxtables (22 percent) and the Brady Bunch (19 percent).
The Kardashians are the celebrities travelers least want at their reunion, taking more than a third of the vote (34 percent), followed by Justin Bieber (27 percent) and Miley Cyrus (16 percent).
While family reunion stereotypes and mishaps might be good fodder for late night talk show monologues, most reunion-goers put a more positive spin on their family reunion, citing "We Are Family" by Sister Sledge (40 percent), followed by "Celebration" by Kool & The Gang (24 percent) and "Let's Stay Together" by Al Green (10 percent) as the songs that represent their family reunion over "Highway to Hell" by AC/DC (8 percent), "I Wanna Be Sedated" by the Ramones (7 percent), "Crazy" by Gnarls Barkley (6 percent) and "Kung Fu Fighting" by Carl Douglas (3 percent).
"Vacation rentals offer unbeatable savings for family reunions compared to booking multiple hotel rooms, eating out at restaurants and renting spaces for meals and gatherings," added Brian Sharples, HomeAway CEO. "Whether it's cooking and sharing a favorite family recipe, playing in the swimming pool or yard, or late night conversations in the living room, vacation rentals give families the space to spend quality time and make lasting memories together."
Bestselling author AJ Jacobs is also raising awareness about family reunions and showcasing how we are all connected with his new project, The Global Family Reunion (http://www.globalfamilyreunion.com). Jacobs is working on building a family tree that connects all seven billion people on earth, and will be hosting the largest family reunion in history on Monday, June 6, 2015 at the New York Hall of Science.
"I'm a huge fan of family reunions of any size, but I say, the bigger the better. I can't wait to meet thousands of my cousins and sing 'We Are Family' with them," added Jacobs. "And I promise not to look at my iPhone or tablet."
To further celebrate family reunion season, HomeAway is giving away a $5,000 vacation rental stay for a family gathering in 2015 anywhere in the United States. To enter, travelers just need to Instagram, Tweet, Pin and/or post pictures from their family vacation or reunion, using the hashtag #AwayTogether before August 4, 2014. HomeAway will randomly select a winner by August 7, 2014. To see entries and upload a photo visit, http://www.homeaway.com/info/social and for more details on the contest, visit http://bit.ly/FamReunionContest.
In June, HomeAway announced its one millionth live vacation rental listing and now offers accommodations for 7.3 million family members in 190 countries. With HomeAway's industry-leading inventory, even the quirkiest of families can find their perfect accommodation, from oceanfront villas and mountainside lodges to castles, yachts, and treehouses.
About HomeAway
HomeAway, Inc. based in Austin, Texas, is the world's leading online marketplace for the vacation rental industry, with sites representing approximately one million paid listings of vacation rental homes in 190 countries. Through HomeAway, owners and property managers offer an extensive selection of vacation homes that provide travelers with memorable experiences and benefits, including more room to relax and added privacy, for less than the cost of traditional hotel accommodations. The company also makes it easy for vacation rental owners and property managers to advertise their properties and manage bookings online. The HomeAway portfolio includes the leading vacation rental websites HomeAway.com, VRBO.com and VacationRentals.com in the United States; HomeAway.co.uk and OwnersDirect.co.uk in the United Kingdom; HomeAway.de in Germany; Abritel.fr and Homelidays.com in France; HomeAway.es and Toprural.es in Spain; AlugueTemporada.com.br in Brazil; HomeAway.com.au in Australia; and Bookabach.co.nz in New Zealand. Asia Pacific short-term rental site, travelmob.com, is also owned by HomeAway.
1. Findings are based on an online survey conducted by Ipsos Public Affairs from June 23-24, 2014. For the survey, 2,035 adults 18+ were interviewed, including 1,273 adults who have ever taken a family reunion trip.