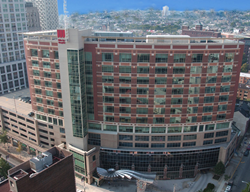 We view this ranking as an index of successful collaboration with our colleagues worldwide who measure us by our dedication to providing the best ophthalmic care, research and training and meeting our day-in-day-out standard for excellence,"
Philadelphia, PA (PRWEB) July 15, 2014
Wills Eye Hospital has been ranked the #2 Best Hospital in the Nation for Ophthalmology in the 2014-2015 U.S. News & World Report Best Hospitals issue released today. The annual issue, now in its 25th year, recognizes hospitals that excel in treating the most challenging cases. The rankings are determined by the votes of thousands of doctors nationwide.
"On behalf of everyone who keeps Wills Eye Hospital the global leader, -- it is our team of eye physicians and surgeons, nurses, research scientists, clinical and administrative staff, board members, philanthropic supporters, residents, fellows and patients – we are honored and humbled to be named one of the top two eye hospitals in America for another straight year. It's a vote of confidence from our respected colleagues and partners in eye care around the nation and a capstone to many years of hard work, thoughtfulness about our mission, and dedication to forward thinking and research. Our 25 years in the top-tier of this closely watched list is a source of tremendous pride to us, since we view it as an index of successful collaboration with our colleagues worldwide who measure us by our dedication to providing the best ophthalmic care, research and training and meeting our day-in-day-out standard for excellence," said Julia A. Haller, MD, Ophthalmologist-in-Chief, Wills Eye Hospital.
With a long and distinguished legacy since opening its doors in 1832 as the nation's first hospital dedicated exclusively to ophthalmology, Wills Eye Hospital is leading the way in the field of ophthalmic medicine. Its resident and post-graduate training programs are among the most competitive in the country; vision research at the hospital is at an all-time high; and Wills Eye is often described as an innovative example of best practices in delivering care in a new and rapidly changing era of healthcare. In addition to its significant vision research, Wills Eye is also engaged in numerous international collaborations, federally funded community outreach programs for eye disease, and utilizing pioneering technologies.
"The U.S. News & World Report ranking centers around excelling at evaluating, diagnosing and treating the most complex, challenging vision cases. It is a privilege to care for our patients with the utmost skill and compassion," said Joseph P. Bilson, Chief Executive Officer of Wills Eye Hospital.
Wills Eye provides a full range of primary and subspecialty eye care for improving and preserving sight, including cataract, cornea, retina, emergency care, glaucoma, neuro-ophthalmology, ocular oncology, oculoplastics, pathology, pediatric ophthalmology and ocular genetics, and refractive surgery. Ocular services include the Wills Laser Correction Center, Low Vision Service, and Diagnostic Center. The hospital's 24/7 Emergency Service is the only one of its kind in the region. Wills Eye also has a network of nine multi-specialty, ambulatory surgery centers throughout the tri-state area. To learn more, visit http://www.willseye.org, like us on Facebook, and follow us on Twitter @Wills_Eye.