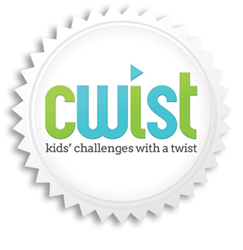 "ThinkFun and Fat Brain Toys are perfect partners to join the CWIST family. They are both passionate and committed to energizing kids through learning and fun, while motivating them to always do their best, just like we strive to do here at CWIST."
Annapolis, MD (PRWEB) July 16, 2014
CWIST, Inc., a free, crowd-sourced, digital library of fun, interactive, learning challenges for kids, announces today their new partnerships with leading educational game manufacturer, ThinkFun®, Inc. and quality e-tailer, Fat Brain Toys.
CWIST's creative approach to education features a "wish engine" that helps kids ages 5-11 make the healthy connection between the things they want and the effort it takes to get them. Kids earn parent-approved rewards upon successful completion of a CWIST challenge, extending the play experience and making parent purchases more meaningful.
With these new partnerships, ThinkFun and Fat Brain Toy's array of fun, educational products will join CWIST's rewards selection, in addition to custom "cwists" for both partners.
Like CWIST, ThinkFun's mission is to challenge kid's minds and sharpen their skills through creative play and fun. Within this partnership, CWIST will develop challenge content for its platform that enhances the learning experience with ThinkFun's products and programs. CWIST will also cross promote, support and create challenge content for ThinkFun's events and programs such as Big Games and community game nights.
In addition, a perfect partner for the CWIST platform is Fat Brain Toys, who for more than 10 years, has been a retailer of quality, open-ended toys, games, and gifts that entertain and educate.
"ThinkFun and Fat Brain Toys are perfect partners to join the CWIST family," said Christopher Sleat, CEO of CWIST, Inc. "ThinkFun and Fat Brain Toys are passionate and committed to energizing kids through learning and fun, while motivating them to always do their best, just like we strive to do here at CWIST."
"Our partnership with CWIST is a wonderful opportunity for us to cohesively reach an online community of creative kids and their families in a way we have not before," says Bill Ritchie, CEO of ThinkFun, Inc. "We are excited to introduce families to our products, and develop compatible content and challenges that engage children on a new level."
"CWIST is a fantastic collection of educational content that paired with quality rewards from brands like Thinkfun and Fat Brain Toys, will be an innovative way for parents and grandparents to engage with their children," explained Matt Hansen, Director of Marketing for Fat Brain Toys.
CWIST challenges and wishes from ThinkFun and Fat Brain Toys will be available beginning in late July. For these and all of CWIST's fantastic educational challenges and partner wishes, be sure to sign up at http://www.cwist.com.
About CWIST
Founded in August 2012 by parent professionals with expertise in educational media and technology platform development, cwist is a parent-educator collaboration that provides crowd-sourced learning through an interactive library of educational, community service and outdoor cwists, or challenges that help kids make a healthy connection between the things they want and the effort it takes to get them. Be sure to LIKE CWIST on Facebook and visit http://www.cwist.com.
About ThinkFun, Inc.
ThinkFun is the world's leader in addictively fun games that challenge your mind and inspire creative thinking. Nearly 30 years ago, ThinkFun was founded by husband and wife team Bill Ritchie and Andrea Barthello with a dream to change the world through play. Their mission: "To translate the brilliant ideas of the craziest mathematicians, engineers and inventors into simple toys that can be appreciated by boys and girls around the world." Over the years, ThinkFun has strengthened its commitment to products that inspire learning, spark creativity, and nurture problem solving, and now serves millions of passionate fans worldwide in 50 countries. The company continues to push into new frontiers with mobile apps, online games, global education programs – even brain research! To learn more about ThinkFun, go to http://www.thinkfun.com.
About Fat Brain Toys
Fat Brain Toys is a husband and wife founded retailer and developer of unique specialty toys, games and gifts. With over 7,000 toys available for purchase online, Fat Brain Toys is one of the largest and most respected toy retailers in the world. For more information on Fat Brain Toys visit: http://www.fatbraintoys.com/about_us/presskit.pdf