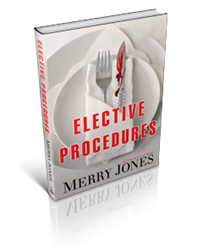 Bestselling Merry Jones adds another "Elle-oquent" thriller to her list of 16 books. —www.Bookreporter.com
Longboat Key, Florida (PRWEB) July 15, 2014
ELECTIVE PROCEDURES, book two in the Elle Harrison thriller series by Merry Jones is now available in hardcover (ISBN 978-1-60809-116-4, 288 pages, $26.95 list) and all digital/eBook formats (ISBN 978-1-60809-117-1, $14.95 list) is now available through your favorite bookseller, worldwide.
The Story...
Elle Harrison is back! She and her pals Jen, Becky, and Susan travel to Mexico where Jen has scheduled cosmetic surgery, after which she will recover in a plush hotel suite. Soon after they arrive, Elle sees the woman in the suite next door fall from her sixth floor balcony. When the room is later occupied by another patient, Elle finds her brutally mutilated body on that same balcony.
Jen's doctor also takes an interest in Elle; a woman staying at the hotel asks Elle to help her fend off a creepy stalker; a veiled woman sneaks into Elle's suite at night, and her late husband, Charlie, reappears (or Elle imagines that he does) when Elle gets pushed under water in the ocean and nearly drowns.
As dangers swirl and intensify, Elle is forced to face her unresolved issues with Charlie, even as she races to find the connections between the murders before more patients—including Jen—can be murdered, and before she herself becomes prey.
The Buzz...
"A riveting and rollicking thriller about cosmetic surgery in exotic locales, Elective Procedures shifts effortlessly through one plot twist after another, blending serious issues, quirky characters, and a touch of the supernatural to make for an enthralling read."
—Jon McGoran author of DRIFT
"A Mexican resort, Nuevo Vallarta, provides the setting for Jones's engaging second Elle Harrison novel (after 2013's The Trouble with Charlie). Elle and several of her friends are staying at a luxury hotel, where one of her companions, Jen, struggles with the realities of plastic surgery and another, Becky, is distracted by unexpected romance. Meanwhile, Elle tries but fails to save the woman in the neighboring suite from plummeting to her death. The next occupant of the same room proves no luckier, as an unseen assailant carves her to ribbons. Haunted by images of her murdered husband, Charlie, and caught up in her own romance, unreliable narrator Elle has no idea who the killer may be, and unless she can unravel the confusing tangle of events swirling around her, she may meet her own bloody end. Readers will want to see more of the endearing Elle."
—Publishers Weekly http://www.publishersweekly.com
"Bestselling Merry Jones adds another "Elle-oquent" thriller to her list of 16 books."
—http://www.Bookreporter.com
"Elective Procedures will appeal to those looking for a light, beach-reading mystery story. The early pacing is strong, the writing style is mainstream but crisp, and the narration and dialogue give the characters enough personality to be memorable."
—ForeWord Reviews
"Elective Procedures makes a week in Mexico into a chilling page turner, full of twists and unexpected developments, as well as a face lift or two."
—Words By Webb
ELECTIVE PROCEDURES is distributed by Ingram, Midpoint Trade, Baker & Taylor, OverDrive, and all other fine distributors.
ELECTIVE PROCEDURES is sold by Barnes & Noble, Amazon.com, Books-a-Million, and your favorite Independent Bookseller.