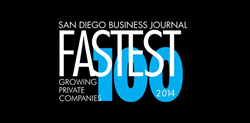 "We are at a great place as a company; growing with incredible focus and an amazing company culture. Our team's dedication to our core values and their relentless rise and grind attitude is what's behind our success
San Diego, CA (PRWEB) July 15, 2014
Mobile advertising is one of the fastest growing business segments in the world with marketing spend on smartphones and tablets expected to jump 84.7 percent in 2014 to $32.71 billion according to eMarketer. One San Diego based mobile marketing firm, Motive Interactive, is captivating this industry with its own amazing growth and impressive client base resulting in the company being named one of the fastest growing private companies for 2014..
The San Diego Business Journal's Fast 100 List recognizes companies headquartered in San Diego, California with the highest rapid growth. The annual award is designed to commend the city's top-performing businesses, and highlights an array of companies from across the region. The Fast 100 ranking is based on a percentage of revenue increase over a three-year period.
This is the third year Motive has been named to The San Diego Business Journal's Fast 100 List proving its impressive growth is more than an anomaly. Motive's revenues increased over 100% from 2011-2013 through a successful transformation from a leading online marketing firm to a major global player in performance based mobile marketing. The company forged this transformation through a series of calculated risks and strategic initiatives that included expanding its sales team, investing in technology, and focusing on the company culture.
"We are at a great place as a company; growing with incredible focus and an amazing company culture. Our team's dedication to our core values and their relentless rise and grind attitude is what's behind our success," says Brendan Smith, Founder and CEO of Motive Interactive.
Without question, Mr. Smith has carefully crafted a collaborative environment where innovation, uncompromising integrity, unparalleled work ethic, and passion have helped Motive become one of the world's top mobile advertising networks. Motive was recognized earlier this year at Mobile World Congress, Barcelona, where mobile analytic and tracking company, HasOffers, ranked Motive Interactive #11 of the Top 25 Mobile Ad Networks in the world; a list that included: Google, AdColony, Chartboost, Tapjoy, and Vungle to name a few.
About Motive Interactive
Founded in 2003 by Brendan Smith, Motive has built a reputation for providing quality performance advertising and marketing consulting services for many of the leading online game and mobile app companies.
Motive represents brands across numerous verticals with a focus on user acquisition in the mobile app and online game segments. Motive remains a privately held firm with its technical, marketing and sales operations in San Diego, California. Mr. Smith continues to be involved in new product development, strategic partnerships and the overall direction of the company. Motive provides mobile marketing services for some of the leading online game and mobile app companies in the world including: Spotify, Skout, EA, GREE, Gameloft, Tiny Co, Bigpoint, and Kabam. A proven innovator, Motive develops and markets technologies, strategies and services that have been defining digital marketing since 2003.
http://www.motiveinteractive.com