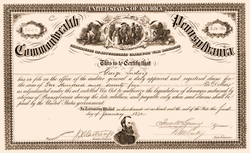 The damage of July 30, 1864 totaled $1.628,431.58. It was $713,294.34 in real estate and $15,137.24 in personal property. More than 50% of those damage claims were never paid.
Chambersburg, PA (PRWEB) July 15, 2014
On July 30,1864, General John McCausland, as ordered by General Jubal Early, levied a tribute against Chambersburg, demanding $100,000 in gold or $500,000 in Yankee dollars. The consequence of not paying the demand was the firing of the town. Chambersburg residents could not pay the demand, and Chambersburg burned, becoming the only northern town burned during the Civil War.
The loss in real estate was $713,294.34; personal property, $915,137.24 and totaled $1,628,431.58. About $500,000 was paid by State appropriation, under an act of the Legislature of February 15, 1866. A second act of the Legislature of May 27, 1871 awarded each claimant a certificate for the remaining balance on losses, but these certificates were not payable until claims were paid by the United States Government. About 650 claimants received certificates.
In 1978, efforts to collect on the certificates resurfaced, when Pennsylvania Governor Milton Shapp wrote to President Jimmy Carter on behalf of descendants of the claimants to request the federal government make restitution. In the letter, Governor Shapp said, "Records contain no evidence indicating that the certificate was paid. We are further advised by our auditor general that there are no funds currently held by the Commonwealth to pay this claim....I respectfully make demand upon the federal government to pay this claim." To date, the federal government has paid none of the claims.
On July 19, as part of the 150th Commemoration of the Ransoming, Burning & Rebirth of Chambersburg--several claim certificates are being exhibited at Courthouse Plaza and some will be auctioned by Gateway Gallery Auction as part of the evening's activities. Samuel W. Crawford's claim certificate will be available for viewing. Crawford, born in Fayetteville, was an assistant surgeon at Fort Sumter and served as a brigadier general in the Eastern Theatre, leading the Pennsylvania Reserves at the Battle of Gettysburg. Among the claims available for auction include: Isaac Allison, John M. Brown, Rev. P.S. Davis, Joseph Deckelmyer, Eli Gates, Dr. J. Montgomery Gelwicks, Sophia Hershberger, Carrie Hetrick, and George Ludwig. A mini biography of each of these Chambersburg residents can be found in "The Franklin County Civil War Damage Claims: Chambersburg Burns, Volume 1," produced by the Franklin County Historical Society. A copy will accompany each auctioned certificate. Additional copies may be purchased at the Franklin Historical Society's booth at the events leading up to the 9:00 PM burning.
More information about 1864: The Ransoming, Burning & Rebirth of Chambersburg is available at DoDineStayFranklinCountyPA.com/burning or by calling the Franklin County Visitors Bureau at 866.646.8060.
The Franklin County Visitors Bureau works to build awareness of the historic, cultural, recreational, and artistic value of Franklin County and its hospitality industry. 1864: The Ransoming, Burning & Rebirth of Chambersburg is one of its initiatives. For more information on Franklin County's "do, dine & stay", visit ExploreFranklinCountyPA.com.