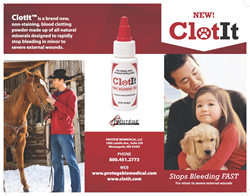 No pet owner wants to disregard their pet's needs over cost.
Las Vegas, Nevada (PRWEB) July 15, 2014
Protégé Biomedical will attend the upcoming SuperZoo show to promote its patent-pending blood clotting powder, ClotIt. ClotIt recently garnered attention when it saved a Minnesota pet owner from costly surgery on a Weimaraner's injured paw. The dog had been bleeding excessively due to an abnormal blood vessel structure in its paw. The vessel had caused bleeding issues several times before, resulting in numerous vet visits. When pressure and bandages failed to correct the problem throughout the night, the dog's owners brought the dog into the clinic. The veterinarian recommended performing surgery to tie off the artery and stop the blood flow. The vet then decided to try ClotIt and, having never used it before, thought it would only be a temporary fix. Not only did ClotIt quickly stop the bleeding, but it kept the bleeding under control, making surgery unnecessary. Two days later, at a follow-up visit, the veterinarian confirmed that the paw had healed completely.
Protégé Biomedical has received many similar reports in which ClotIt has helped pet owners and vets with a variety of bleeding issues. This story about the Weimaraner is a perfect example of the usefulness of this product. "Paw injuries are especially common. We have had a great response to our product and it is now being used in over 300 K-9 units," said co-founder and President of Protégé Biomedical, Susan Wuollett. "No pet owner wants to disregard their pet's needs over cost, so when a product like ClotIt can help the animal as well as, or even better than, more costly alternatives, we create a win-win situation." The Weimaraner's owner was delighted to have an option she could easily administer at home, avoiding the stress of consistent emergency room visits.
SuperZoo is a great chance for Protégé Biomedical to share ClotIt with the pet community. "SuperZoo attracts buyers from all over the country promising introductions to the latest products and trends," said Susan. "We are excited to have this opportunity with the most popular tradeshow for the pet retail industry attracting more retailers, suppliers, and service providers than any other show in North America." Members of the Protégé Biomedical team are hopeful that ClotIt will impress attendees of the SuperZoo show as much as it has everyone else who has had the opportunity to use it. They are eager to spread the word about the benefits of this innovative new product and help pet owners, vets, and others who work with animals throughout the world.
About Protégé Biomedical
Protégé Biomedical was established by husband and wife duo, Michael and Susan Wuollett, in 2011. The couple was urged by an esteemed group of advisors to pursue their entrepreneurial passions after winning the Fowler Business Concept Challenge in 2010 with a styptic fibrin bandage idea. Research in advanced, natural clotting technologies led them to develop the concept. Additionally, Protégé has made a name for itself in Minnesota's crowded med-tech market by developing a series of products focused on the health and safety of both people and animals. The company recently raised $500,000 from an angel investor to expand sales and pursue regulatory approval for human use. Protégé Biomedical currently has patents pending in surgical, military, and general consumer arenas. For more information on Protégé Biomedical, visit http://www.protegebiomedical.com or call 800.451.2773.
# # #