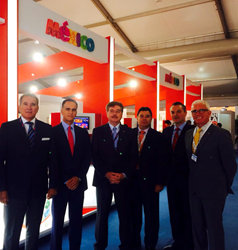 Tijuana, Mexico (PRWEB) July 15, 2014
This Sunday, the State of Baja California was the official host in the welcome reception given to Mexican States attending to Farnborough International Air Show, the dinner was celebrated in Mexico´s Embassy in London.
Mexico´s federal promotion agency, Promexico, works in coordination with State Economic Development Agencies to promote the different regions that specialize in the Aerospace Industry, of which Baja California stands out for holding the largest and most experienced aerospace cluster in the Country, comprised by 65 companies that represent 29% of country´s exports.
On Monday, a delegation of 15 people from Baja California arrived at the Farnborough International Air show headed by Francisco Vega de Lamadrid, State Governor, where they inaugurated the space for Baja California in Promexico´s pavilion. Afterwards the delegation had meetings with over 30 companies interested in the State and on strengthening the supply base of the Aerospace Industry in the region.
"I am pleased we got good leads during this first day," said Enrique Esparza Chairman of the Tijuana EDC. "This global event brings together major companies so we can share with them the strong experience of the aerospace industry based in Tijuana. Other destinations could have great future, but companies cannot wait until the workforce gets the technical expertise, or supplier base is certified. Tijuana is just ready to take-off."
Tijuana is not only renowned for its 40 years of experience and a well-developed environment for aerospace manufacturing in the country, but also for its world-class engineering and aerospace technical talent, state of the art quality assurance methodologies, operational competitiveness, and a labor dispute free environment. Some of the major aerospace and defense companies located in Tijuana are: Zodiac Aerospace, Delphi, Eaton, Lockheed Martin, Cubic, Esterline, TE connectivity, and Honeywell.
Also highlighted at the show, was the outstanding linkage between the city´s aerospace industry and universities to develop aerospace engineering and technical talent based on the sector´s needs with programs such as the Baja California's State University (UABC) Center for Aerospace and Engineering Technology, has one of the best equipped composites laboratories, built in collaboration with Honeywell Aerospace. Other programs include CETYS University, certified by the Western Association of Schools and Colleges (WASC), offers an engineering program with minor on Aerospace and a Master's in Aerospace Engineering, the Technical University of Tijuana (UTT) offers a Product Lifecycle Management Lab, features cutting-edge software that allows controlling the product manufacturing process virtually, from its conception to industrial design, testing, manufacturing, delivery to the customer, and after-service.
About Tijuana EDC: Founded in 1989, the non-profit Tijuana Economic Development Corporation (DEITAC as its acronym in Spanish) has been dedicated to helping companies of all types take advantage of the benefits found in the Tijuana- San Diego region. With over 130 private-sector members from both sides of the border who are experts in areas like industrial development, construction, law, accounting, custom brokerage and logistics, maquiladora/shelter services and more, the Tijuana EDC can help your company map out a new path to profits and competitiveness.