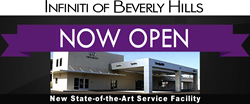 At Infiniti of Beverly Hills, we pride ourselves in superior service, speed and value to the customer, as well as being a contributing member of the community by supporting local events and charities. — SETH WASKOW, Vice President and General Manager
(PRWEB) July 15, 2014
Infinity of Beverly Hills, the city's pre-eminent luxury car dealership, announces the grand opening of its new service center; as distinctive as the vehicles in its stunning new showroom, it was announced today by vice president and general manager of the dealership, Seth Waskow: "It gives us great pleasure to facilitate such a fully-accommodating service center for our customers. A true pride and joy for us to develop and now open to the community."
Conveniently located in the heart of Beverly Hills, 9001 Olympic Boulevard, the new service center just opened this week and features a host of amenities including a well-appointed waiting area with large-screen TV, complimentary Wi-Fi, pastries and refreshments, a full-service business center and a merchandise boutique. Accent on Service!
It further offers free oil changes for new customers and shuttle, including car wash and loaner services. Its service bays are manned by experienced certified technicians using the most technically-advanced diagnostic and repair tools.
Complimentary Amenities/Customer Care
To a Community That Demands Nothing But the Best

Loaner Cars
Car Wash
Beverages & Pastries
Customer Lounge w/ WiFi
Full-Service Business Center
Shuttle Service
"Customers of Infinity of Beverly Hills can expect the utmost level of luxury in their vehicles and attentiveness to their needs when they are making a purchase," states Waskow. "Now they can experience the same care and treatment when they bring their cars in for service."
Sure to surpass every customer's highest expectations, the new service center opens fresh on the heels of the dealership's recent Spring opening, boasting a brand new 20,000-square-foot facility. Infinity of Beverly Hills is the largest showroom of any dealership along Wilshire Boulevard. Now its service center can be found situated about a mile away on Olympic Boulevard (five blocks west of Robertson Boulevard).
Driven to serve, the dealership continues to be a distinguished member and supporter of the community. It makes ongoing donations to the Beverly Hills Police and fire departments; supports the Tower Cancer Research Foundation, National Jewish Health and Celebrate Israel; and is the sponsor of the upcoming Beverly Hills International Music Festival, taking place August 1–10 at Temple Emanuel and the Greystone Mansion (further developments to be announced about the Festival; stay tuned).
"At Infiniti of Beverly Hills, we pride ourselves in superior service, speed and value to the customer, as well as being a contributing member of the community by supporting local events and charities." — SETH WASKOW
Experience the Infiniti of Beverly Hills difference today!