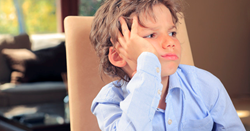 Some children are products of a home where parents bully their children into submission and obedience.
London, UK (PRWEB) July 16, 2014
In today's society, bullying is quickly taking over as one of the biggest concerns when it comes to adolescent development. But no one would have ever guessed the modern world is facing the problem of having parents who bully their children. NoBullying discusses this new wave in an article released today.
For experts, peer pressure, gang initiation and overly aggressive parenting tactics are often seen as types of bullying. Children who are bullied are often known to be depressed, withdrawn and more self-conscious than other students.
An example of bullying parents refers to parents who push their children to compete so hard they will often degrade or humiliate them if they make mistakes or don't perform well enough to meet their standards.
The article points to the existence of aggressive parenting tactics which are often considered harsh and unyielding. Children and teens that grow up in that type of environment are brought up to believe it is normal, it allows them to believe that aggression and humiliation are common and acceptable methods of teaching. This creates a younger generation of violent intolerant people who bully others to get what they want.
Another example of parents who bully their children is parents who call their child names or make fun of them for being accident prone which can actually cause the child to be extremely self-conscious. Some experts go to calling this mental and emotional child abuse.
As for the outcome of this, children who are bullied at home by their parents or older siblings will often become bullies at school. When bullying behaviors are taught by parents, young children automatically begin to accept them as normal behavior. Once bullying patterns are taught, either through parental discipline or verbal/emotional/physical abuse, they will remain with the child until they are unlearned or something more prominent takes their place.
Parents who bully their children do not realize the harm they are doing until they watch them begin to bully others. They also do not relate bullying to their disciplinary methods because they are acting in much the same way that their parents did.
Behavioral studies show that children who have been raised in abusive homes often become abusers themselves. It is a cycle that needs to be broken today.
Macartan Mulligan, Co-Founder of NoBullying.com, said, "It is enough that children must go through bullying with their peers at school but some of them are products of a home where parents bully their children into submission and obedience."
He added that parents and teachers should make a point to educate the younger generations about the sad outcome of bullying online and offline. According to Mulligan, it is quite imperative to press for more firm laws condemning all acts of bullying and harassment.
NoBullying.com features many pages dedicated to parents, teens, teachers, health professionals as well as posts related to cyber safety and the latest news about lawmaking concerning curbing bullying worldwide as well as inspirational Bullying Poems and famous Bullying Quotes.
The website regularly updates its bullying statistics and cyber bullying statistics as it is essential to understand how widespread the bullying epidemic is. It also regularly runs cyber bullying surveys and questionnaires to get recent updated statistics on everything related to cyberbullying, such as cyber bullying texts.
He also added that anyone suffering from bullying in any form or way can always find advice and help on the NoBullying website – but if anyone is suffering from severe bullying or cyber bullying, the best thing is to talk to someone locally – a parent, teacher or local organization that has been set up to help with specialized councilors to deal with this topic.