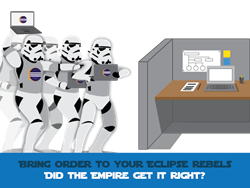 No more rebel developers installing rogue plugins. No free-for-all updating. Teams are always in sync across the board.
Dallas, Texas (PRWEB) July 16, 2014
Genuitec, makers of Secure Delivery Center 2014 (SDC), wants to take the pain out of your team software delivery. Genuitec is giving away SDC to teams of up to 25 developers. Additionally, larger teams can benefit from significant discounts on the purchase of SDC. SDC keeps developers writing code, letting team leads take control of their team's toolstacks.
Get SDC 2014 free for your team now: http://info.genuitec.com/free-roll-out-for-teams
"SDC is already used by household brand companies to manage and deliver software to development teams," said Tim Webb, director of sales strategy and innovation at Genuitec. "With this offer we've already exposed the cost savings and ROI gained with SDC to 42 new enterprises in just the first week. If your company needs open source team management, you should try this free offer."
SDC takes the pain out of software and tool delivery to teams. By appointing a team lead, SDC centralizes tool management and delivery. Now a team lead can bundle up everything teams need to code their projects into a consolidated package. That package is then pushed out to every member of the team. No more rebel developers installing rogue plugins. No free-for-all updating. Teams are always in sync across the board.
Setting up SDC is easy. With a simple configuration of settings, team leads are up and running in minutes. Using point-and-click functionality, team leads can set up development environment with ease. Most teams are up and running 20 minutes after a simple configuration of settings. Further, a step-by-step walk through guides team leads to successful package delivery every time. SDC lets team leads use point and click to a secure and managed development environment.
Secure Delivery Center (SDC) works behind your firewall, delivering secure, custom installations of Eclipse and MyEclipse to teams with minimal administrative effort. SDC is available as a complimentary 30-day trial at http://www.genuitec.com/products/sdc/download/. Trial and paid SDC licenses include all updates at no extra charge. Learn more about our value-driven pricing on our Pricing page. Enhanced service agreements are available and vary in cost.
About Genuitec
Started in 1997 and counting over 16,000 companies in 191 countries as customers, Genuitec is a leader in the Eclipse open source community. As a founding member of the Eclipse Foundation, Genuitec has actively participated in strategy, development, and direction for the organization.
Today, Genuitec supports one of the largest developer communities for commercial Eclipse tools. Customers benefit from Genuitec's ongoing commitment to open standards and to the continual enhancement of the MyEclipse, Secure Delivery Center, PiPlug, and Mobile Tools product families with unique innovations and low subscription pricing.
Contact Genuitec today to learn more: http://www.genuitec.com/company/contact.
Follow on Twitter: @genuitec
Like on Facebook: http://www.facebook.com/Genuitec
Find on Google + : https://plus.google.com/+GenuitecHome