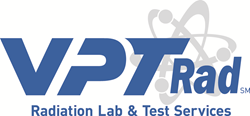 Blacksburg, VA (PRWEB) July 15, 2014
VPT® Inc., a HEICO company (NYSE:HEI.A) (NYSE:HEI), today announces the addition of VPT Rad℠, a comprehensive radiation laboratory and test services facility, to serve the radiation and related test needs of aerospace electronics manufacturers.
The 5,000 square-foot Chelmsford, Massachusetts facility, formerly known as Si-REL, provides specialized environments and equipment for evaluating electronics used in applications where ionizing radiation can degrade device performance. VPT Rad offers turn-key solutions at both High Dose Rate (HDR) with its TID (Total Ionizing Dose) GC-200 irradiator and Low Dose Rate (LDR) Broad Beam TID irradiation for Enhanced Low Dose Rate Sensitivity (ELDRS) analysis. Additionally, the facility services the radiation needs of the biomedical manufacturing market.
The VPT Rad facility meets the requirements of MIL-STD-750 and MIL-STD-883; and has approved Source Suitability from the Defense Logistics Agency (DLA). The facility also services radiation test needs for customers and programs outside the U.S. using European Space Components Coordination (ESCC) 22900 compliant test methods.
"As part of VPT, we are continuing our customer commitment and radiation testing expertise with total autonomy, while expanding our capabilities through capital investment," said Aridio Sanchez, VPT Rad Executive Director and the facility's founder.
VPT's CEO, Dr. Dan Sable said, "We are extremely pleased to expand VPT with an organization that has impeccable service standards as well as impressive depth of knowledge and expertise. Their positive reputation is a natural complement to VPT's long-standing customer satisfaction status in the high reliability electronics market."
About VPT and HEICO
VPT, Inc., part of the HEICO Electronic Technologies Group, leads the industry in providing innovative DC-DC power converters, EMI filters, and custom engineering services for avionics, military and space applications. VPT delivers its power solutions in a fast time frame, with certified quality, at a competitive price. Every day, organizations like NASA, Lockheed Martin, Boeing, the United States Air Force and many more depend on quality solutions from VPT to power critical systems. On the ground, in the air, or beyond, VPT provides the power driving critical missions that require the highest level of reliability. For more information about VPT, please visit http://www.vptpower.com. Complete information on VPT Rad and its service offerings can be found at http://www.vptrad.com.
HEICO Corporation (NYSE:HEI.A) (NYSE:HEI) is engaged primarily in certain niche segments of the aviation, defense, space, medical, telecommunications and electronics industries through its Hollywood, FL-based Flight Support Group and its Miami, FL-based Electronic Technologies Group. HEICO's customers include a majority of the world's airlines and overhaul shops, as well as numerous defense and space contractors and military agencies worldwide, in addition to medical, telecommunications and electronics equipment manufacturers. For more information about HEICO, please visit http://www.heico.com.
# # #
Products described in this communication are subject to all export license restrictions and regulations which may include but are not limited to ITAR (International Traffic in Arms Regulations) and the Export Administration and Foreign Assets Control Regulations. Further restrictions may apply. VPT, its logo and tagline are registered trademarks in the U.S. Patent and Trademark Office. All other names, product names and trade names may be trademarks or registered trademarks of their respective holders.