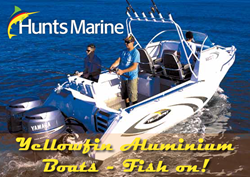 Fish on, with Yellowfin Aluminium Boats.
Batemans Bay, NSW (PRWEB) July 18, 2014
Leading marine dealership, Hunts Marine, today announced that they had entered into a dealership agreement with Yellowfin boats which will see their Batemans Bay retail outlet distribute Yellowfin's premium range of single plate aluminium boats.
"We are delighted to announce our dealership arrangement with Yellowfin," said Hunts Marine Director Jon Hunt.
"Yellowfin aluminium boats are universally regarded as serious boats for serious fishers and come with a host of safety and comfort features which make them stand out from their peers and the first choice for savvy purchasers when they are looking for a new aluminium boat," Jon added
"The range of Yellowfin aluminium boats, from the snappy 6400 models through to the 7400 models, is designed to meet every fisher's needs and budget. All models are available as cabin or centre console and the 6900 and 7400 models are also available as twin rigged models," Jon emphasised.
Standard safety features on all Yellowfin boats include, 5mm plate bottom and transom sheets, 4mm plate side sheets, fully welded self-draining checker plate floor, longitudinal and latitudinal sub frame rib structure, wide aluminium side pockets and side decks.
"All in all Yellowfin aluminium boats offer the complete package for the keen angler," said Jon "We expect them to be extremely popular and our staff are fully trained to provide expert advice and assistance to our customers on the Yellowfin aluminium boat range."
Hunts Marine is one of New South Wales oldest and most respected marine dealerships. The family business was established in 1946 and has traded continuously since that date. Hunts Marine specialise in tailoring the right boating package for the needs of each customer.
For further details Jon Hunt on 02 9546 1324 or visit http://www.huntsmarine.com.au.