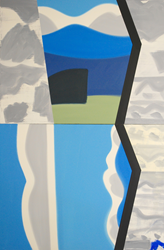 Santa Fe, New Mexico (PRWEB) July 15, 2014
David Richard Gallery will present a selection of contemporary landscape paintings by Gregory Botts. Painted in Madrid, New Mexico, Botts combined figuration with geometry, plein air with studio painting and site-specific locations with memory to create his abstractions. The exhibition will be presented July 18 - August 23, 2014 with an artist reception Friday, July 25, 2014, 5:00 - 7:00 PM. A fully illustrated catalogue with an essay by Peter Frank will accompany the exhibition. The gallery is located at 544 South Guadalupe Street, Santa Fe, New Mexico 87501, phone 505-983-9555 in the Santa Fe Railyard Arts District.
At first glance, Botts' paintings are as straightforward as they seem, contemporary and reductive landscapes. However, on closer examination, they are much more complex with many layers of imagery, painting and meaning, shifting more to abstraction and bordering on conceptual. How can that be? Botts is fascinated with the passage of time, both on a micro scale—the duration of time when creating his plein air paintings with the ever-changing clouds, moving water and shifting sun that changes the light, shadows and color palette—and macro scale—shifts in art tendencies and genre, the poetics of art and popular culture and changes in the environment. Yet he captures all of this passage of time and more in his paintings as he creates narratives illustrating the impact of these changes. For Botts, "the reality of the present is informed by the romantic past and the projected idealistic future". Painting with Fairfield Porter and Paul Georges on Long Island, NY, he honed his formal skills from the masters. However, Botts was very much influenced by his contemporary colleagues in New York and the ever-changing world of Post-Modern art. Botts conflates all of it into his unique approach to landscape painting in a very modern and contemporary world. His plein air paintings capture the essence of the landscape, while the studio paintings introduce his memory and interpretation. The pinnacle of this work is the constructions, the paintings of paintings that have been juxtaposed in the studio in various orientations with the many overlapping fragments combined together. The constructions are the narratives that bring together the passage of time on a micro and macro scale as well as the artist's romantic and poetic notions and formal elements from art historical positions and cultural fashion, all of which impact our view and interpretation of the landscape.
Gregory Botts divides his painting practice between New York City and Northern New Mexico. He studied at the School of Visual Arts, NYC and Skowhegan School of Painting and Sculpture in Maine. Since 1982 Botts has had more than 30 solo exhibitions and his paintings included in numerous group exhibitions in New York, Los Angeles, Santa Barbara, Santa Fe, Roswell and Atlanta, among other cities. His exhibitions have been reviewed in Art In America, ARTnews, Artsmagazine, Art International, Village Voice and the Los Angeles Times. Botts' artwork is included in many private collections and the permanent collections of the Mint Museum of Art, Charlotte, NC, San Antonio Museum of Art, TX, Denver Art Museum, CO, La Jolla Museum of Art, CA, Santa Barbara Museum of Art, CA and Museum of Contemporary Art, Honolulu, HI, among others.
David Richard Gallery, a contemporary art gallery in Santa Fe, specializes in post-war abstract art including Abstract Expressionism, Color Field, geometric and hard-edge painting, Op Art, Pop Art, Minimalism, Feminism and Conceptualism in a variety of media. Featuring both historic and contemporary artwork, the gallery represents many established artists who were part of important art historical movements and tendencies that occurred during the 1950s through the 1980s on both the east and west coasts. The gallery also represents artist estates, emerging artists and offers secondary market works.