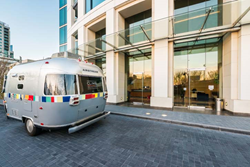 "Each year, Inman Real Estate Connect brings together real estate agents, brokers, and owners from around the globe to share, network, learn, and improve their practice in this must-attend conference."
San Francisco, CA (PRWEB) July 15, 2014
Climb Real Estate agents Mark Choey and Danielle Lazier will be speaking at Inman News' Real Estate Connect conference in San Francisco, happening July 16-18 in Union Square, on the topic of online lead management for real estate agents. Climb's unique Airstream mobile office will also be on site and open for tours by conference attendees.
Climb co-founder and Top Producer Mark Choey will speak about tips and tricks for online lead management on the "Portal Hacks" panel on Wednesday, July 16th at 10:40 am. His co-panelists are Tristan Ahumada of Keller Williams Westlake Village and Eric Boyenga of Intero Real Estate. Choey has previously spoken on panels at RealTech SF, the SFAR Young Professionals Network, and the HAAS School of Business at UC Berkeley. He was also recently interviewed by Trulia for their Industry blog.
"Each year, Inman Real Estate Connect brings together real estate agents, brokers, and owners from around the globe to share, network, learn, and improve their practice in this must-attend conference," said Mark Choey. "Climb Real Estate Group looks forward to playing an active role in the conference, and Danielle Lazier and I are honored to participate."
Climb Sales Director and Top Producer Danielle Lazier will be a panelist for "From Lead Generation to Client Generation" on Wednesday, July 16th at 4:20 pm. The panel will cover how to turn internet leads into "informed clients and long-term advocates for you." Her co-panelists include Galen Ward of Estately, Petra Sheaffer of Boomtown!, and Loren Haley of Redfin. The panel will be moderated by Chris Smith of Curaytor.
Lazier said of the conference, "I love real estate and I love tech. The Inman Connect conference keeps me fresh and hip to the latest and greatest in the colliding worlds of real estate and technology. If you wanna be a top, tech-savvy agent or broker, you gotta attend Inman. I'm thrilled to be a speaker this year, too!" Lazier is the founder of SFhotlist, one of the city's first real estate blogs, and is ranked as one of the top 50 agents in San Francisco, with over $79 million in buyer-and owner-represented sales in 2013 (per MLS sales data) and over $41 million so far this year.
Real Estate Connect is a real estate technology conference held in both New York City and San Francisco each year. Produced by Inman News, the San Francisco conference will be held July 16-18 at the Hilton in Union Square and includes over a hundred speakers, educational workshops for agents and brokers, and both established and startup companies demonstrating the latest in real estate technology. Climb Real Estate's innovative Airstream mobile office will be available for tours; the special edition Design Within Reach Airstream travel trailer has been customized as a stylish mobile meeting space with an iPad kiosk, wireless internet, and the Open Home Pro application for lead capture. The interior was designed by Stacey Lim Designs and includes a clock by Nelson Ball, a coat rack by British designer Tom Dixon, custom dinette cushions, custom window treatments, and dramatic flooring.
ABOUT CLIMB REAL ESTATE
Climb Real Estate Group is a San Francisco-based full-service general real estate brokerage with offices in Potrero Hill, Mission Bay, Noe Valley, and in the Jack London Square area of Oakland. Their focus is on inspiring, urban-style properties–from new construction communities to historic loft conversions, live/work spaces to Victorian flats, modern condominiums to Edwardian apartments, TICs to multi-family dwellings, stylish single-family homes to freestanding earthquake cottages. Since its establishment in 2005, Climb has offered comprehensive real estate sales solutions for buyers, sellers, landlords, investors, and developers. They have been the number one residential resale brokerage in South Beach, Yerba Buena, and SOMA since 2007.