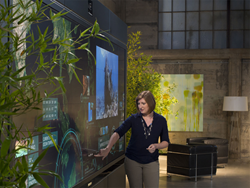 San Jose, CA (PRWEB) July 15, 2014
Who: Prysm, Inc.
Where: Hyatt Regency Santa Clara
When: July 15 – 16, 2014
At Wainhouse Research UC&C Summit, Prysm, Inc. will demonstrate its Cascade video wall solutions. Through a combination of state-of-the-art hardware, software and network services, Cascade collaboration solutions enable users to present, share, reposition, resize, annotate and edit all types of content using on-screen touch. Cascade digital displays help organizations improve workflow, streamline communications, increase productivity and accelerate the time to decision through an unrivalled collaboration experience.
Amit Jain, president and chief executive officer at Prysm will also present "The Evolution of the Corporate Collaboration Space."
The Evolution of the Corporate Collaboration Space
In an increasingly fast-paced world, legacy AV solutions can present a roadblock to collaboration and decision-making. A new generation of collaboration solutions move beyond the dedicated use-case model, to provide the flexibility of a multipurpose space which supports use cases from small team meetings to big data analysis. Through the simultaneous display of multiple content types and inputs, and providing participants with the ability to seamlessly interact with content, greater engagement is achieved. These capabilities deliver a breakthrough collaboration experience that raises team productivity to a whole new level.
Additionally, Mark Kershisnik, executive director of global core market research at Eli Lilly and Company will present "Collaboration: The Power of Many."
Collaboration: The Power of Many
Four years ago, Mark and his team at Eli Lilly started a journey to "develop the capability to aid the creation and capture of evolved human thought." What they discovered along the way has delivered a breakthrough in team collaboration at Eli Lilly – speeding the analysis and assimilation of information, identifying and capitalizing on opportunities, and converting the culture from a "meeting culture" to a "getting work done culture." Mark will discuss current and emerging use cases that illustrate how Eli Lilly is harnessing the power of many through collaboration, featuring his company's use of Synthesis, the software powering Prysm's Cascade video wall solutions.
About Prysm, Inc.
Prysm is a Silicon Valley-headquartered company delivering total display solutions that create unrivaled immersion and engagement. Combining groundbreaking hardware, software and services, Prysm is revolutionizing the world of large-scale displays. Prysm's Laser Phosphor Display (LPD) platform is a key foundational technology that makes possible breathtakingly beautiful, scalable and versatile video walls. Prysm display solutions serve major brands worldwide including leaders in technology, retail, financial services and media as well as governments and universities. Prysm has a global sales and support network with offices in Boston, Chicago, Indianapolis, New York, San Jose, London, Bangalore, Dubai and Beijing. Learn more at prysm.com.