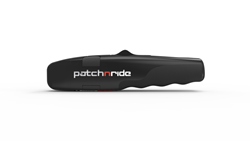 "The technology behind patchnride eliminates traditional repair methods such as messy sealers, greasy bike chains and wheel removal," says Alexander Deiser, Co-Founder of patchnride.
Hollywood, FL (PRWEB) July 16, 2014
patchnride™ showcases its innovative solution to quickly, easily and permanently repair all flat bicycle tires at the Tour of Utah. Featuring patent-pending technology, patchnride works by inserting a patch and adhesive into the tire, repairing it from within. Providing a quick repair for numerous tire types, patchnride is available for tubular, clincher, mountain bike, cruiser, fat and running stroller tires, and will soon be able to repair tubeless tires as well. patchnride also reduces the carbon footprint by helping to eliminate the more than 20 million inner tubes that are tossed into U.S. landfills each year.
Click here to see how it works
patchnride transforms the tedious process of changing a flat into a 60-second blip in your ride. The breakthrough technology in patchnride eliminates the need to remove the wheel, and allows cyclists to patch the same tire as many times as needed. Once patched, the tire is ready for any riding conditions or terrain.
Perfect for road cyclists, triathletes, long-distance cyclists, mountain bikers and daily cruisers, patchnride offers a simple five-step process for repairing a flat. First, wipe patchnride's leak detector along the tire, causing bubbles to form at the site of the leak. Then, pinch the tire to insert patchnride into the puncture. Pull the slider back to load the patch, hit the start button to release the adhesive and then push the slider forward to insert the patch into the tire. Remove patchnride and press down on the repair to set the adhesive. A thin rubber piece will remain, signaling the repair is complete. Simply add air and be on your way.
"The technology behind patchnride eliminates traditional repair methods such as messy sealers, greasy bike chains and wheel removal," says Alexander Deiser, Co-Founder of patchnride. "Virtually effortless to use, patchnride repairs a punctured tire while still on the wheel without any necessary skills, additional tools or preparation. The great thing about patchnride is that its simplicity makes it perfect for a serious cyclist or triathlete as well as cruising types or parents. It's a product that's never existed before, and we're ecstatic to bring it to the market."
The uniqueness of patchnride is based on a reusable system of cartridges called patch pods™. Patch pods are replaceable and interchangeable cartridges that hold the patch for a tire. After changing a flat, a user simply needs to remove the used patch pod and insert a new one. Thus, the cost to repair is flat is only that of a patch pod refill. Patch pods are for one-time use and available in two variations: the road patch pod for clincher, tubular and triathlon bikes; and the mountain patch pod for mountain bikes, cruisers and running strollers. Each patchnride purchase includes one patch pod™.
For a limited time, patchnride is hosting an online pre-sale and offering a 50% discount package that includes one patchnride tool, two patch pods and two leak detectors. Valued at $50, the package is currently available for $25 plus shipping and will be available in fall 2014. Visit http://www.patchnride.com to purchase the product and learn more.
# # #
About patchnride™
patchnride™ repairs bicycle flat tires permanently, quickly and in under 60 seconds. All road bicycles, mountain bicycles, cycling bikes, cruiser bikes, triathlon bikes, strollers and kids bicycles can be repaired with patchnride™. This is the first bicycle repair tool that allows cyclists to keep the tire on the wheel. patchnride™ fixes the inner tube of the tire with a patent-pending technique that allows even a beginner to patch their bicycle tire in under a minute and with no knowledge of bicycle parts required. Bike repair has never been this easy. patchnride™ can be found in our online store and will be coming to a bicycle store near you very soon.
About Tour of Utah
The Larry H. Miller Tour of Utah is one of only five UCI-sanctioned, multi-stage, North American pro cycling events in 2014. Showcasing some of the world's most prestigious teams and cyclists for seven days in August, this event now attracts worldwide attention as the top international cycling event that follows the Tour de France. Nearly a decade since its opening circuit, the Tour of Utah today stands shoulder to shoulder with the most prestigious, professional bicycle stage race events as our answer to the greatest cycling challenges the world has to offer.