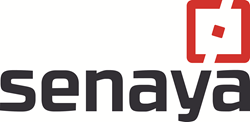 "It's more than just asset tracking – it's asset intelligence," says Senaya COO and co-founder Jamshed Dubash. "The product is market-ready and field tested, with 10's of thousands of devices deployed to date."
Boston, MA (PRWEB) July 16, 2014
Senaya Inc., a global leader in M2M asset tracking solutions for the worldwide supply chain, has announced the release of its new Enterprise Logistics asset tracking solution called "Asset Intelligence" (AI). AI represents a new class of enterprise asset tracking that enables accurate and timely visibility into the supply chain and focuses on tracking and monitoring of non-powered assets.
More than just a location tracker, Asset Intelligence measures temperature, shock, motion, and battery life delivering user-defined data requests through a web-based dashboard licenses via a SaaS (Software and as Service) model per device. For companies seeking automated, accurate and timely information on non-powered and reusable assets, Senaya provides a superior solution to IT asset management.
Utilizing military-grade batteries and advanced sensors that transfer information through Sprint's powerful mobile network, Senaya's Asset Intelligence solution allows precise, timely and automated asset intelligence from non-powered assets such as pallets, IBCs (Intermediate Bulk Containers), specialty gas cylinders, ISO tanks, ULD's (Unit Load Devices) and other reusable assets.
"Sprint's open platform, network leadership, and commitment to M2M make them a great choice for us," said Senaya CEO Dr. Brian Lee. "The Sprint network allows us to provide asset visibility data to our customers without any investment in infrastructure."
Senaya's Asset Intelligence solution brings the power of the Internet of Things (IoT) to the enterprise, to provide complete visibility into assets across the supply chain.
"It's more than just asset tracking – it's asset intelligence," says Senaya COO and co-founder Jamshed Dubash. "The product is market-ready and field tested, with 10's of thousands of devices deployed to date."
Senaya offers customizable solutions for the automotive, chemical, oil & gas, packaged gas, pharmaceutical, retail, and industrial manufacturing industries.
About Senaya:
Senaya Inc. is a privately held Boston-based M2M (machine-to-machine) supply chain technology company providing advanced SaaS (Software as a Service) cloud-based asset tracking solutions that utilize sensor, cellular, and other wireless communication technologies.
For more information on Senaya's tracking solutions, please send an email to sales(at)senaya(dot)com or visit http://www.senaya.com.
# # #