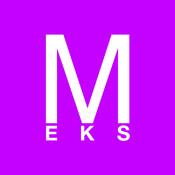 Social Networking Simplified!
Calgary, Canada (PRWEB) July 23, 2014
MEKS is a new social networking application which has been designed to give users more authority over their interactions than ever before. This system can be precisely customized to fit the user's individual needs. MEKS has taken a new approach to socializing which allows the user to customize the platform. Rather than dictating the rules to how one socializes, MEKS hands over the control to users.
This independent media app offers a complete array of networking features including: messaging, posts, photo & video sharing, likes & comments, friends & followers, photo albums, event planning and much more. The main focus of MEKS is to deliver a simple, private and customizable user experience, which is currently not prevalent in other conventional social network systems. MEKS's goal is to provide a platform for users where they can control all details and settings to attain the level of social interactions which they desire.
The idea of MEKS was conceived because of the limited control that users currently have in their social networking mediums and the restrictions on customization. With this new approach to social networking, the user is empowered to stay as private or as public as they wish by setting their account to conform to their needs.
Rambod Rad, founder of MEKS, comments: "We are following a product development strategy that was successfully used in the software industry for decades — bundling features to increase product value."
MEKS 1.0 is free and available worldwide exclusively through the App Store in the Social Networking category. To learn more you can visit the official MEKS website.
MEKS Tech Inc.
Download from App Store
App Screenshot
Facebook
Twitter
About MEKS Tech Inc.
Located in Calgary, Canada, MEKS Tech Inc. is a privately funded company founded in 2014 by Rambod Rad. The company is committed to developing high quality social networking applications.