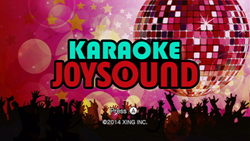 Bridgewater, NJ (PRWEB) July 15, 2014
Brother International Corporation, one of the premier providers of products for the home, home office and office, in cooperation with its affiliate group company, XING Inc., announced that it has released a downloadable version of XING's popular karaoke software. The new software currently sells for 500* Wii Points and will enable users with an Internet connection to stream songs to their Wii console in the U.S. & Canada. With KARAOKE JOYSOUND, karaoke fans are now able to sing their hearts out at home.
Karaoke lovers can stream music for hours to their Wii console with the purchase of a ticket.** Tickets are purchased with Wii Points and start as low as 250 points for 6-hours. Other tickets are available for purchase in 3-day and 30-day durations. A complementary 6-hour ticket (limited to one use) is included with the initial purchase of the software, so that the user can experience online karaoke virtually immediately. New songs will be released online each month for KARAOKE JOYSOUND.
Features of KARAOKE JOYSOUND's include:

Nationwide Scoring where scores from all singers who have sung the same song is displayed
Self-Scoring that will display the individual singer's score only
Effects that will present a variety of icons and images on the screen with additional sounds
Instruments that will provide special sound effects such as clapping, tambourine, and cheering or booing, besides basic functions such as key change, volume and echo adjustment, and song reservation.
*Price subject to change without notice.
** Tickets are activated at time of purchase and will expire at the end of their active period (defined at the time of purchase). For more details on tickets or to learn how they can be purchased visit http://kjw.joysound.com/.
A free demo version of KARAOKE JOYSOUND is also available. It includes three (3) songs with limited features.
For further information: http://kjw.joysound.com/.
# # #
About JOYSOUND:
A trademark of XING Inc., JOYSOUND is one of the most recognized karaoke brands in Japan. For over twenty years hundreds of thousands of karaoke machines for commercial use and various home consumer services, including smart phones, have been developed and released under the JOYSOUND name. The company's growth is attributable to providing products not only for karaoke but for the general music entertainment business - http://gl.joysound.com/en/.
About Brother International Corporation:
Brother International Corporation is one of the premier providers of products for the home, home office and office. The U.S. corporate office in Bridgewater, NJ, was established on April 21, 1954 and currently markets many industrial products, home appliances and business products manufactured by its parent company, Brother Industries, Ltd. of Nagoya, Japan. These products include an award-winning line of Multi-Function Center® machines and printers. Brother also provides the number-one line of facsimile machines in the U.S. and is the leader in electronic labeling, with its full line of Ptouch® Electronic Labeling Systems. For more information you can visit the website at http://www.brother.com.
Contact:
Michael Nakagaki, Brother International Corp.
Michael(dot)Nakagaki(at)brother(dot)com
JOYSOUND is a trademark of XING INC.