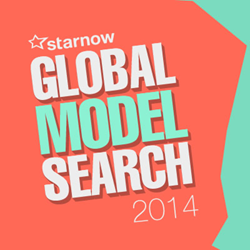 Rebeca, StarNow Global Model Search winner 2012 "Being part of StarNow's Global Model Search has been a fantastic experience for me and a whirlwind journey. This model search really does provide the perfect opportunity for young models to take their first
(PRWEB UK) 17 July 2014
StarNow—the world's leading website for online auditions and jobs—is joining forces with three of the world's top model agencies, Models 1 in the UK, L.A. models in the States and Vivien's Model Management in Australia, to find the next wave of up-and-coming models.
The StarNow Global Model Search begins on the 7 July 2014, offering the chance for every day girls and guys to step into the world of modelling and change their lives forever! They are looking for potential models with a fresh face, a great smile, a healthy look and loads of confidence.
To find out more, go to http://www.starnow.com/starnowglobalmodelsearch2014.
Now in its third year, the StarNow Global Model Search has already provided the perfect platform for its last two winners, Rebeca Marcos and Jebediah Shorten. Rebeca who was signed to Models 1, was lucky enough to front a campaign for Topshop and has also had the opportunity of working with top photographers Sølve Sundsbø and Vincent Vandervingaard. Jebediah in the last 7 months since she was signed to Vivien's Model Management has among other things worked on a Kevin Murphy campaign and walked in a Vera Wang for Harris Scarfe show.
Rebeca, StarNow Global Model Search winner 2012 - "Being part of StarNow's Global Model Search has been a fantastic experience for me and a whirlwind journey. This model search really does provide the perfect opportunity for young models to take their first steps into the industry."
Jasmine Taggart from StarNow - "We have a very strong track record of helping and supporting talent across the globe and the StarNow Global Model Search is a great chance for us to work with our partners (Models 1, LA Models & Vivien's Model Management) and discover aspiring models in different countries. Rebeca and Jebediah have been great ambassadors for us and we can't wait to see who we discover this year.
"This year's winner could end up working with a major brand, as Rebeca and Jebediah have done, or even be the face of a cosmetics giant – the opportunities are endless"
The StarNow Global Model Search is free to enter and is open to females and males from around the world aged 14 to 21. The competition runs from 7 July – 1 August 2014. To enter, go to http://www.starnow.com/starnowglobalmodelsearch2014.
For further information on the Starnow Global Model Search, please contact: Jasmine Taggart on email jasmine.taggart(at)starnow(dot)com.
Notes for Editors
StarNow is the leading audition and job website for actors, models, dancers, photographers, stylists, crew, and musicians. Launched in 2004, StarNow connects talent with industry professionals and has over two million members worldwide. As a StarNow member you can apply for auditions and jobs, find an agent and work with some of the biggest names in the industry.
Models1
Britain's leading agency, Models 1, was established in 1964. The agency originally started with only three models and progressed at an accelerated rate to become one of Europe's leading agencies, especially after discovering some of the world's top supermodels such as Twiggy and Yasmin Le Bon. Their most famous models include Alessandra Ambrosio, Amber le Bon, Cameron Russell, Coco Rocha, Hollie-May Saker, Linda Evangelista, Will Chalker, Francisco Lachowski and Miles McMillan to name a few.
L.A. Models
In just over 20 years of operation in the fast-paced, high-stakes world of modelling, founder Heinz Holba has built L.A. Models into one of the most powerful and successful agencies in the industry.
Vivien's Model Management
Credited with having discovered some of the fashion world's biggest models, Vivien's Model Management has been at the forefront of the modelling scene for over 40 years in Australia.