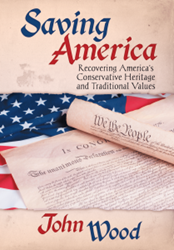 The author draws a clear line in the sand, proposing 'the one and only way short of a civil war to get the America of old back on course and heading in the right direction again.'
(PRWEB) July 21, 2014
Just as the Colonists declared their independence from the king of England in 1776, today's conservative and Christian Americans should proclaim their independence from the socialist rulers in Washington, D.C., and statehouses around the country. In his new book, author John Wood details this extraordinary call for action – and the reasons it needs to happen.
"Saving America: Recovering America's Conservative Heritage and Traditional Values" presents the view that America has been remodeled into a polarized country that becomes more alien to the Constitution and its founding principles every year by Marxist design. Its once conservative Capitalist government has been transformed into a liberal Socialist government that has bankrupted it financially, morally and spiritually.
Wood proposes that conservatives and Christians form a nation west of the Mississippi River, while leftists, liberals, socialists, Marxists and other radicals occupy another nation east of it. Because politicians are either unwilling or unable to fix what is broken, Wood believes this is the only solution that can save the America he loves while allowing all its citizens – both conservatives and radicals – to live in countries that best represent their beliefs and values.
Wood urges the new West America to adopt strict unfettered free-market Capitalism; return to conservative, Christian and traditional principles and values; and proposes more than 100 suggestions to put into a new Constitution to "liberal-proof" the new country. In his outspoken book, Wood draws a clear line in the sand, proposing "the one and only way short of a civil war to get the America of old back on course and heading in the right direction again." The book covers such topics as the right to bear arms; freedoms of speech and religion; energy; the economy; and election, voting, judiciary, education and welfare reform.
John Wood, a full-time student of U.S. politics, is a lifelong, conservative, God-fearing American. He and his wife, Suzanne, have been married for 25 years.
----------
For additional information, please visit http://www.savingamericathebook.com.
Saving America: Recovering America's Conservative Heritage and Traditional Values
John Wood
Dog Ear Publishing
ISBN: 978-1-4575-2322-9 200 pages $19.95 US
Available at Ingram, Amazon.com, Barnes & Noble and fine bookstores everywhere.
About Dog Ear Publishing, LLC
Dog Ear Publishing offers completely customized self-publishing services for independent authors. We provide cost-effective, fast, and highly profitable services to publish and distribute independently published books. Our book publishing and distribution services reach worldwide. Dog Ear authors retain all rights and complete creative control throughout the entire self-publishing process. Self-publishing services are available globally at http://www.dogearpublishing.net and from our offices in Indianapolis.
Dog Ear Publishing – self-publishing that actually makes sense.