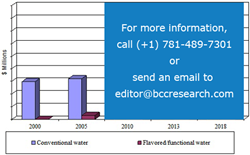 Global Bottled Water Market to Reach $195 Billion in 2018
Wellesley, Mass., (PRWEB) July 15, 2014
BCC Research (http://www.bccresearch.com) reveals in its new report, GLOBAL MARKETS FOR BOTTLED WATER PRODUCTS, the global bottled water market is expected to grow to $195 billion by 2018, with a five-year compound annual growth rate (CAGR) of 10.7%. Market drivers include innovations in bottling technology that have lowered the price of water as well as continuing concerns about obesity and related diseases. In emerging markets, lack of access to clean water often makes bottled water a necessary staple rather than a value-added product such as juice or carbonated soft drinks.
Bottled water is a beverage industry phenomenon that has rapidly captured market share in virtually every major world region. Conventional, or unflavored water without functional additives, dominates the overall market. This segment is expected to reach $166 billion by 2018 and register a CAGR of 10.5%.
The greatest market growth is expected in the flavored and functional water segment, which is projected to move at a significant CAGR of 12%, growing to nearly $29 billion in 2018.
"Consumption of bottled water varies widely by region and country," says BCC Research food and beverage analyst Susan Hanft. "Several Western European countries, including Germany, Italy, France, and Spain have per capita consumption levels from 100 to more than 200 liters (L) per year. Individuals in the world's largest-volume bottled water market, Mexico, consume nearly 260 L per capita annually. In much of the developing world, where most of the world's population lives, per capita consumption figures are still in the single-digit range. However, despite these regional differences, demand for bottled water exists across the globe, in highly developed markets, in less developed ones, and in economies in transition."
By world region, the Asia-Pacific market is the largest, in terms of both volume and value.
Negative campaigns against bottled water continue to affect the industry. In the U.S., bottled water bans have been adopted in some cities, national parks, and on college campuses. These actions have not damaged sales, but merely driven them to other locations. The industry is responding with products that are more environmentally sustainable.
GLOBAL MARKETS FOR BOTTLED WATER PRODUCTS provides an overview of the global market for bottled water, including conventional water and flavored/functional water. It includes analyses of global market trends, with data from 2010 and 2013 and projections of CAGRs through 2018. The report provides segmentation by world region and includes profiles of key companies in the industry.
Editors and reporters, who wish to speak with the analyst, should contact Steven Cumming at steven.cumming(at)bccresearch(dot)com.
About BCC Research
BCC Research publishes market research reports that make organizations worldwide more profitable with intelligence that drives smart business decisions. These reports cover today's major industrial and technology sectors, including emerging markets. For more than 40 years we've helped customers identify new market opportunities with accurate and reliable data and insight, including market sizing, forecasting, industry overviews, and identification of significant trends and key competitors. We partner with analysts who are experts in specific areas of industry and technology, providing unbiased measurements and assessments of global markets. Our clients include the top companies in industries around the world as well as universities, business schools, start-ups, consulting firms and investment companies. BCC Research is a unit of Eli Research LLC. Visit our website at http://www.bccresearch.com. Contact us: (+1) 781-489-7301 (U.S. Eastern Time), or email information(at)bccresearch(dot)com.
Data and analysis extracted from this press release must be accompanied by a statement identifying BCC Research LLC, 49-2 Walnut Park, Wellesley, MA 02481, Telephone: (+1) 781-489-7301; Email: editor(at)bccresearch(dot)com as the source and publisher. Thank you.