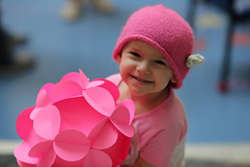 Avery is an amazing little girl who battles a deadly disease, with a smile and laughter.
Commack, Long Island, New York (PRWEB) July 16, 2014
Hands On HealthCare Massage Therapy and Wellness Day Spa is looking forward to helping raise funds for Avery, a 4 year old who has Stage 4 Neuroblastoma. She has been an incredible fighter through multiple chemotherapy treatments, surgeries and hospital stays. Avery recently received stem cell transplant treatment at the Children Hospital of Philadelphia (CHOP). She developed a complication from this procedure called veno-occlusive disease (VOD). VOD is when small veins in the liver become obstructed causing clots. It was life threatening. Avery endured a lengthy 2 month stay at CHOP but battled her way back. She is currently receiving Proton Radiation treatments at CHOP which will be followed by Immunotherapy.
Marla Kaplan-Pelle, Director states, "Avery is an amazing little girl who battles a deadly disease, with a smile and laughter, at least most of the time! She was diagnosed in August 2013 and her and her family have faced multiple challenges since. And, they still have along way to go. She is in the midst of receiving Proton Radiation and then she should also be a candidate for Immunotherapy, which is expected to be a difficult time."
Two women, Donna Fazio and Ann Marie Thompson from Lindenhurst both have multiple ties to Avery and her family. Together, they have put together a fundraiser.
The All Star Comedy Night will take place on August 7th at Governor's Comedy Club. Hands On will participate in the fundraiser and tickets are also available through Hands On.
Hands On HealthCare Massage Therapy and Wellness Day Spa has been serving the Commack Community since 2000. Hands On HealthCare Massage Therapy is a recognized leader in Advanced Medical Massage in Suffolk County, Long Island. Medical Massage is often the answer regarding pain, injury and disease. Hands On offers Pre-Natal and Post-Natal Massage, Sports Massage, Trigger Point Therapy, Myofascial Release, Manual Lymph Drainage and is a recommended community provider for Memorial Sloan-Kettering Cancer Center. The Spa Services Division offers spa treatments such as therapeutic facials, skincare, microdermabrasion, body treatments, permanent makeup and para-medical cosmetics and cellulite reduction through ultrasound cavitation (Cavi-Lipo). The Wellness Day Spa has an extensive Couples Massage Spa Date Menu. Spa parties are a specialty. An array of services and packages are available for both on and off-site. Beyond the spa services include off-site on-site workplace of event mobile services which include bringing the day spa to the doorstep at home, venue or corporate function. Common events include bachelorette parties, showers, birthdays, Bar and Bat Mitzvahs, Sweet 16 Corporate Events and functions. Hands On HealthCare Massage Therapy claims its licensed massage therapists and estheticians provide clients with the ultimate experience in attention, service and care.
Hands On HealthCare Massage Therapy and Wellness Day Spa
Marla Kaplan-Pelle, Licensed Massage Therapist, Certified Lymphatic Therapist, Director
208 Commack Road, Commack, NY 11725