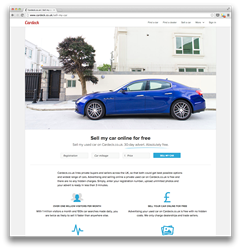 (PRWEB UK) 16 July 2014
Rapidly growing automotive website Cardeck.co.uk adds another string to its bow with the addition of the 'sell my car' feature, which allows private sellers to advertise their car on the site absolutely free of charge.
When selling anything, it always pays to get it seen by the widest possible audience. Selling a car is no different, the seller is in most cases looking for a quick sale. Cardeck.co.uk currently has over 1 million visitors a month, resulting in 100,000 car searches per day. This makes it the perfect platform to advertise on. While a number of automotive websites have the facility for private sellers to list their cars for sale, prices can range up to as much as £30 for a 30 day listing.
Listing with Cardeck has been made quick and simple, taking less than 3 minutes to complete. Start by entering the vehicle's registration number, current mileage and price you wish to sell it for. Cardeck brings up the car's information based on the registration number. All that remains is to add some photos and detail! The good thing here is that there is no picture limit in place, sellers have unlimited high resolution picture space at their disposal.
"Cardeck was designed to be quick and simple to use, connecting buyers across the country to their dream car easily, with filters to narrow down the results. We are passionate about the car selling and buying process and wanted to make it quick and simple for private sellers to list their cars. The beauty here is that there really are no hidden costs involved and the seller can show their vehicle in the best light with unlimited free picture uploads. There's simply no reason not to list your car on Cardeck," says Roman Danaev the company's director.
Notes for Editors
Cardeck launched on the 1st Of March 2013. An automotive website aimed at making the buying and selling of cars as quick and simple as possible. In little under a year Cardeck has gone from strength to strength, managing to surpass competitors which have been in the game far longer such as raccars.co.uk and driving.co.uk. It is now the 6th Biggest car advertising website by volume, with over 100,000 cars listed by over 570 Car dealerships across the U.K. Cardeck offers clear, simple pricing for dealers at £90 per site per month, which includes unlimited picture uploads for every single car they list, as well as now facilitating private sellers with free advertisements.