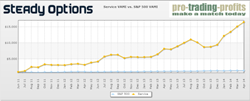 We don't give you the fish, we teach you how to fish. Our commitment to you: we want to make money with you, not from you.
Toronto, ON (PRWEB) July 16, 2014
In the first 6 months of 2014, SteadyOptions produced non-compounded ROI of 95.3%. The return on the whole account is 57.2% (based on 10% per trade allocation).
Winning ratio was 65% and average return per trade 7%. Check out the performance page to see the full results. Those results are based on real fills, not hypothetical performance, and exclude commissions. Since inception SteadyOptions' options trading strategies have produced a 105.3% average annual return, including commissions, according to Pro-Trading-Profits.
SteadyOptions subscribers get high quality education and full guidance to be successful in options trading. They get a full trading plan: the strategy, rationale behind the trade, risk/reward, adjustment plans, etc. All trades are shared in real time, including entry, adjustment and exit.
SteadyOptions is the #1 ranked options newsletter on Investimonials. Our members voted SteadyOptions #1 out of more than 700 newsletters. 93.6% of reviewers give SteadyOptions 5 stars.
For a limited time, SteadyOptions offers two months access to our trade alerts and options trading strategies for the price of one month. Click here to take advantage of this offer.