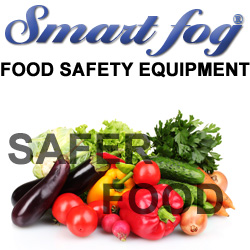 Smart Fog provides Precise Produce Humidification and Food Safety Solutions
Reno, NV (PRWEB) July 22, 2014
For more than 30 years, Smart Fog Inc has provided industrial and cold storage consumers with dynamic, specialized humidification solutions, while continually maintaining their commitment to excellence and customer satisfaction. Offering 50-70% less energy requirements than other technologies, Smart Fog utilizes a natural de-correlation process. This process is completed through a non-chemical procedure that requires minimal energy output. Smart Fog technologies also provide a 4.2 Micron droplet. The size of the droplet is critical because it allows for proper moisture evaporation throughout the entire storage area.
Providing a wide range of different technologies to various buyers and consumers, Smart Fog will be showcasing their cold storage humidification capabilities at this years Fresh Summit Convention & Expo. Offering complete humidity and food safety solutions for all cold storage, pre-cooling, ripening rooms and conveyers, Smart Fog has revolutionized non-wetting humidification solutions and disinfected equipment capabilities. With their industry leading cold storage solutions, water is forced into the air in order to maintain 99% relative humidity without damaging produce or other stored items. One of the biggest advantages that the Smart Fog technologies provide is a jumbo, non-clogging orifice. Through the de-correlation process, the use of the large orifice is utilized for both input and output. With a large orifice, the nozzle will not clog easily and ensures low system maintenance.
Smart Fog utilizes their patented cold storage enforcement technology to reverse the correlation and cause a consistent water droplet size of 4.2 microns. Providing ideal methods to disinfect materials and provide fog that is so fine it will actually penetrate all types of packaging, you will be truly amazed with these technologies. All of the Smart Fog cold storage humidification solutions incorporate low pressurized, compressed air (100 psi) and accessible water pressure. In addition, a fully automated ES100 System has been specifically designed for easy installation and low maintenance. With the specialized Smart Fog technologies, you are always provided with a double cooling effect. All of the system nozzles create a strong vacuum effect that has the ability to cool both the air and the water. Regardless of the input temperatures, the output is always 4 degrees Celsius (40 degrees Fahrenheit). Another great feature that Smart Fog provides is an intelligent, precise humidity control. Each system is equipped with a CPLC controller that incorporates a specialized algorithm that has been specifically developed to identify the most efficient ways to generate the required humidity within any given environment.
Showcasing a wide range of different technologies, the annual Fresh Summit Convention and Expo connects important industry players, retail buyers, marketing specialists, food safety professionals and technology innovators with one another to bring top solutions to a diverse range of buyers. With over 20,000 attendees and 900 global exhibitors, the Fresh Summit is world renown for the technologies that are revealed, connection that are made and ideas that are exchanged. Through an exclusive sponsorship list, more than 4,000 potential buyers attend the Fresh Summit Convention and Expo showcase in order to have exposure to some of the most advanced technologies in the world.
About SmartFog:
In business since 1980, Smart Fog(R) Inc. is the recognized world leader in the industrial and commercial humidification systems industry. And, all products are manufactured in the U.S. Smart Fog, The Humidification Experts, is a world leader in developing unique industrial and commercial humidifier systems to meet the individual needs of your environment.
For more information, visit: http://www.smartfog.com.