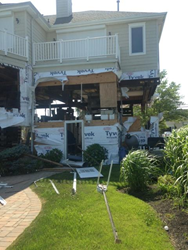 Aberdeen, NJ (PRWEB) July 16, 2014
Every month the sales team is still going to the Jersey Shore for estimates on house lifts, a representative from SCB says. We get five to ten calls a month for people wanting us to help them. Waiting lists for grant programs and funding set aside by the Federal Government are long, and Governor Chris Christie has promised that New Jersey residents will receive the money they need to get back into their homes and move ahead with their lives.
A Stone Creek Builders representative has said, "Since Hurricane Sandy, many flood insurance companies are requiring elevation of homes and businesses to avoid paying serious premiums, quoted around $31,000 for a home in 2013. The billions of dollars of damage caused by Sandy could be something residents are likely to re-experience if measures are not taken to secure buildings and lift them above floodwaters. Elevation can be dangerous when done by someone who isn't a professional builder, and can be even more unsafe after storms have weakened structural integrity in unseen ways. Too many residents who have been faced with insurance premiums have attempted to take matters into their own hands after not receiving the grants promised to them by the state in a timely fashion, and the news has been full of the sad results."
Right now SCB are on their 5th house lift for this year. We have three in Sea Bright, one in Manoloking, and the newest one is in Union Beach. Stone Creek Builder continue to be busy helping property owners successfully navigate the requirements of the mitigation program. As soon as homeowners receive the money they deserve from the grant programs, Stone Creek Builders go to work performing a thorough reconstruction and rehabilitation of the property, using careful and cost-effective methods to restore and maintain the health and well-being of all structures on the property.
About Stone Creek Builders
The founder of Stone Creek Builders has been a leading provider of building, remodeling and restoration services for over 20 years. Stone Creek Builders provides general contracting, remodeling, insurance restoration, house lifting, and storm reconstruction services to clients in central and shore regions of New Jersey. Contact us at (732) 566-0395 or visit our website at http://www.stonecreekbldrs.com for more information.