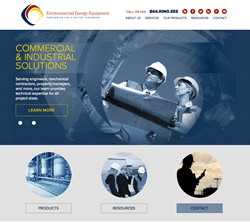 Clifton, NJ (PRWEB) July 16, 2014
Environmental Energy Equipment, a New Jersey-based manufacturer's representative for high-efficiency hydronic heating equipment, has just launched their new website redesign.
Their new online hub showcases the latest in custom website design. A focus on practical, skillful design and user navigation is what sets this new trend in web design and development apart from years before.
Companies like Environmental Energy Equipment understand this new need for presenting a better brand. That's why they and hundreds of other companies are undergoing major overhauls to redesign their websites. In today's world of smartphones and search engines, the website is the true business listing that matters. And while B2C companies continue to lead the way, B2B companies (especially those in the service, utility, and energy sectors) are still behind the times when it comes to compelling marketing.
Graphic D-Signs, Inc. was enlisted to carry out the design, development, copywriting and strategy for the redesign. A full service advertising agency, Graphic D-Signs, Inc. has worked with clients nationwide, creating over 550 unique websites.
Consumer buying habits are changing rapidly. Search by mobile device is set to surpass that of desktop by the end of 2015. A website redesign has been the key for many businesses seeking to take advantage of better search engine rankings, greater customer engagement, and increased online conversions.
Providing turnkey energy solutions and engineering support, Environmental Energy Equipment services clientele in New Jersey, New York, Pennsylvania and Delaware. Those interested can check out their new website at: http://eeequipment.com/