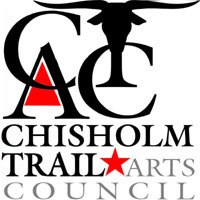 Duncan, OK (PRWEB) July 16, 2014
Chisholm Trail Arts Council (CTAC)'s Arts Explosion-2014 kicked off this week, with a talented line up of artists sharing their passion with students and adults alike all week long.
This annual weeklong summer arts day camp is for students who have completed third, fourth, or fifth grades. Held at the Stephens County Fair and Expo Center, July 14-18, 2014 this year's children's classes are full. Students enrolled in six offered classes.
Classes will begin each day at 8:30 a.m. and end at 12:20 p.m. daily. Children will create using Tie Dye, Pottery, Sketching, Painting, Papier Mache and Rock Collage.
New this year is the addition of youth classes for those in sixth grade and above.
The youth will create masterpieces each day from 2-5 pm on July 14, 15 & 16 in Batik/Tie Dye, Watercolor and Drawing. Enrollment is $45.
For the adults, there will be evening classes in painting, ball room dancing and culinary art. Each class is $25 or take all three for $60. All classes to be held at The Stephens County Fair and Expo Center from 6:30 pm - 8:00 pm, Monday, Tuesday and Thursday.
Please come to the Stephens County Fair and Expo Center for Late Enrollment.
On Friday, July 18th, there will be an arts showcase beginning at 5:30 p.m. The showcase allows students and instructing artists to show their work to families and friends.
It is not too late to register for youth and adult classes so be certain to contact Darcy Reeves, Executive Director for the Chisholm Trail Arts Council at the Stephens County Fair and Expo Center for Late Enrollment. For general information, contact 580.252.4160 or E -mail: director(at)chisholmtrailarts(dot)com.