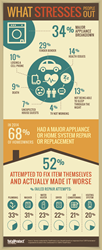 Fort Lauderdale, FL (PRWEB) July 17, 2014
High levels of stress affect physical and emotional health, day-to-day activities, personal relationships and work life, and according to a recent study by the American Psychological Association, nearly half (44 percent) of adults say they are either not doing enough or are not sure whether they are doing enough to manage their stress. To understand how issues around the home affect stress levels, TotalProtect Home Warranty, a nationwide leader in home maintenance and protection plans, conducted a survey of more than 1,000 U.S. homeowners.
TotalProtect found that home breakdowns are considered so stressful that one-third of consumers say they would rather get into a fender bender on the road than have a home appliance or system break down at the wrong time. In addition, 68 percent of respondents had one of these stress-inducing breakdown requiring repair or replacement in the past year.
"When something so essential to your home life and routine suddenly stops working, like your washing machine or heating-air conditioning system, it can derail your plans for the day, intrude on your work time, and throw your household budget out of balance," said Sandra Finn, president of TotalProtect. "Our findings reinforce just how stressful home breakdowns can be. A TotalProtect comprehensive home warranty can help alleviate that stress and give homeowners a partner who will fix the problem quickly and as hassle-free as possible."
More than 50 percent of the homeowners surveyed attempted to handle the home repairs on their own and many ended up spending even more money than if they had initially called a professional. The attempted repair of such things as plumbing, washers/dryers, air conditioners/heaters, refrigerators and water heaters, often backfired, resulting in higher levels of financial and emotional stress.
When seeking a qualified and trusted service technician for the repairs, TotalProtect found that 64 percent of respondents relied on outreach to family and friends.
"TotalProtect reduces stress and takes the guesswork out of home repair," said Finn. "One call connects homeowners to the industry's largest network of more than 40,000 service providers who have been vetted and are backed by the industry's longest warranty of 180 days."
The survey commissioned by TotalProtect was conducted by Clientize and SSI. Results are based on responses from 1,010 homeowner respondents located in the continental U.S.
About Total Protect Home Warranty:
TotalProtect Home Warranty provides a full selection of reliable home management plans. Consumers can purchase home warranty services directly from the company at http://www.totalprotect.com. In business since 1978 and headquartered in Fort Lauderdale, Fla., TotalProtect is a division of Cross Country Home Services.