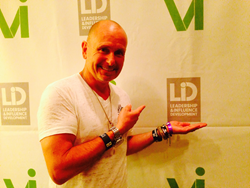 I am in the people business and I am blessed to have all these great people around me. I am able to work with and share life with many great people. I enjoy sharing with them and pouring back into them.
Los Angeles, CA (PRWEB) July 22, 2014
Neil Haley, the Total Tutor host of the Simply G Radio Show, interviewed Vi 5 Star Ambassador and Vi Millionaire GJ Reynolds to find out about the five things you should do everyday.
Reynolds is an original founding member in the company ViSalus and is now a 5 Star Ambassador, Vi Millionaire, and CEO of Simply G Media. He has written a book titled "The Playful and Powerful Warrior Within You!" and holds the distinction of completing the Dale Brown and Project 10 Challenges by working out for more than 1000 days straight (and counting). According to Klout, Reynolds ranks in the top 10 percent of social media in the world.
In the interview, Reynolds explained how John C. Maxwell does five things on a daily basis and Reynolds learned to do these as well. Reynolds described what he does. The first thing Reynolds does each day is he thinks.
"What are you thinking about? Where are you going? Are you focusing on and thinking about positive things?" asked Reyonlds. GJ also shared, "I am very good at filtering out the bad stuff. I think about who is able to help me move forward in a positive way? I have found positive focus creates positive actions and results. I am amazed at how powerful the mind is. Thinking also allows me to start off each day right for me."
Reynolds said that he spends at least 20 minutes each day thinking about his goals, dreams, and aspirations. He suggested everyone else do so too. "How is one able to achieve their goals, dreams and aspirations without thinking about them? I always have mine in front of me and I am thinking about them daily." Reynolds said.
The next thing Reynolds said he does everyday is write. Reynolds described why he loves to write. "I love to write. Writing is a better way to communicate. It is a way to crystallize what I do. It fulfills me and helps me every day. The ironic thing for me about writing, their was a time when I hated to write and spent a lot of time and anguish resiting to write. Now writing is a way for me to express freely and to be creative. I now enjoy this process. It is a great example of how one is able to transform a process from a negative to a positive."
The third thing Reynolds does everyday is connect with people, especially with people who have helped him elevate his business and helped him have more success and a blessed life. He said that he loves to connect with people who help him be a better teacher, a better leader, a friend, a husband, and an entrepreneur. Reynolds said, "I am in the people business and I am blessed to have all these great people around me. I am able to work with and share life with many great people. I enjoy sharing with them and pouring back into them. I find this a fruitful and positive thing to do everyday. I love people and without them I definitely would be in a much different place in my life."
The fourth thing GJ Reynolds does is ask questions. Reynolds said, "One of the things I have learned and made me a more successful as entrepreneur was to quit selling and just share and ask questions. Asking questions removes fear and people will open up when asked good questions. I have said many times, be great at asking questions and you will elevate your business. Questions are a great way to break the ice and to establish trust. Once you build trust you are able to grow yourself and your business."
Finally, Reynolds described the fifth and most important thing he does. He prays. Reynolds expressed, "I have have faith God is watching over me. Everyday I pray for God to open up opportunities and to learn the lessons I require to learn. I also pray for guidance and assistance for the day. It provides a divine guidance for me as well. I have found having faith and trusting in God allows me to be more focused and to find the magnificent things in my life's journey."
You can find out more information on Simply G Media by going to http://simplyg.com/media/simplyg-radio/.