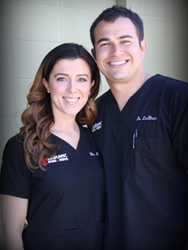 There are great new options for Knee Pain
Layfayette, LA (PRWEB) July 17, 2014
Knee pain is a condition that affects millions of Americans. This condition often leads to knee replacement surgery which can be expensive and have lifestyle altering consequences. Many patients are looking for alternative treatments, and recent medical advances look to be promising.
When contacted at her office Doctor Marino said, "Neuro-analgesia or Electro-analgesia, (sometimes referred to as Electronic Signal Treatment), is a brand-new, innovative treatment modality that utilizes a modulated and attenuated pulsed electronic signal (current). In conjunction with Cold Laser - a treatment that utilizes specific wavelengths of light to interact with tissue which accelerates the healing process - we can substantially reduce or even possibly eliminate your knee pain."
She continued by saying, "This pain-free, non-surgical approach works by stimulating the body's natural healing processes, providing pain relief and reducing injury damage. Electro-therapy is nothing new and in fact has long been used by doctors to alleviate pain. Neuro-analgesia, however, is the only FDA approved electrotherapy to operate at a high frequency of 8000-10000 pulses per second. It is a safe, effective, non-invasive, non-surgical treatment which may have finally cracked the knee pain code. This leading edge technology has an impressive success rate of returning patients to work, sports and competitive activities, as well as everyday life. Patients who were treated often show a higher level of function, both during and after the treatment period. In addition, Neuro Analgesia and Cold Laser therapies have proven to be a tremendous alternative for those facing surgery."
Doctor Marino finished by saying, "We've seen hundreds of people with knee problems leave the office pain free. If you reside in the Lafayette, LA area, are over the age of 50 and have had severe knee pain for at least six months, (or have tried everything and have been told you are a surgical candidate) our new breakthrough in medical technology may significantly reduce, and in some cases eliminate, your pain and help restore normal function to your knees."
For more information, or to schedule a consultation, please contact LeBlanc Spine & Nerve at (337)-889-5820 or visit their website: http://www.leblancspineandnerve.com.