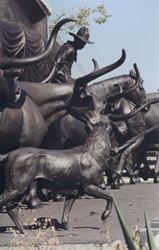 Duncan, OK (PRWEB) July 17, 2014
Duncan, the Heart of the Chisholm Trail, bustles with garage sale activity community wide the third weekend in July each and every year that draws hundreds of garage sale enthusiasts from across the state and outlying states.
Originally started as a Duncan Chamber of Commerce program that, in the past, included a festival in Fuqua Park which is not occurring this year, the garage sales continue on every year, with numerous sales community wide. The neighboring communities of Marlow and Comanche also host sales that same weekend. New to the weekend is the addition of "Junkin' on The Chisholm Trail", where you are certain to find collectibles, antiques and great grub at the Marlow Mercantile, The Antique Mall and The Antique MarketPlace in Duncan, The Buzzard's Nest Trading Post in Comanche, Addington Station Antiques and the Country Closet in Waurika.
For those who love a good bargain, there will be sales, sales, sales. A garage sales locator insert will be available in The Duncan Banner on Wednesday and Thursday, so head to Duncan this coming weekend. Or simply check out the many neighborhoods where postings will be placed to alert garage salers. Who knows, you may find something extraordinary plus you are guaranteed to experience the Heart of the Chisholm Trail's hospitality. for general information please contact The Duncan Convention and Visitors Bureau at 1-800-782-7167.