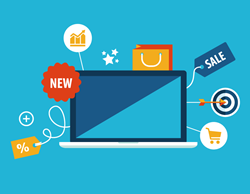 London, UK (PRWEB UK) 17 July 2014
Is display advertising dead? Apparently, the average click-through rate of a traditional (static) online advert is less than 0.1%. Which isn't surprising, considering half of all display advertising is never seen by web users, according to Meetrics. Comscore puts this figure at 30%.
Meanwhile, spending on display advertising has increased. It grew by 32.4% in 2013, a bigger increase than any other channel. Online display advertising is predicted to grow by around 21% (2014 – 2016) and overtake the growth of search marketing in 2015. With the clever application of product-level content, display advertising can become "functional creative" – more engaging and more attributable.
1. Try different targeting methods
There's more than one way to get your products in front of the right audience, and the same approach won't work for every online retailer. Some mix of contextual targeting and audience targeting should see you right.
When it comes to targeting, the more specific you can be with your criteria, the more efficient you can be with your budget, leading to high-quality clicks. The key is to rigorously test (and of course refine) your strategy.
2. Don't neglect advert content
Your advertising needs to have the right stuff in it. Retailers who focus on engaging, targeted advertising with quality data behind it will reap the rewards.
Instead of brand-led messaging that may be informative but won't drive click-through, consider what could be achieved with product-led advertising. Displaying a product's attributes effectively leads to engaging, useful adverts that actually assist someone with their buying decision.
3. Increase engagement with personalisation
Online display advertising that is relevant and personalised, engaging the right people with the right information, will unsurprisingly convert best. Unlock the sales potential in 'big data' sets by presenting the right goods to the right people.
E-commerce retailers with all their product information (including product features and attributes) at their fingertips could deploy this into dynamically generated digital display ads.
4. Consider dynamic display adverts
An advert needs to attract attention. People are becoming bored of static banner ads of traditional display advertising.
Create dynamic adverts that allow consumers to perform a product search within the advert. The benefits are clear: as well as putting more power into the hands of the consumer, you can take them directly to their chosen product page once they have filtered the features they desire, seriously shortening the sales funnel. Consider this approach in place of informative adverts with weak calls to action.
5. Use retargeting appropriately
Going after the people who have already been on your site is a no-brainer, and retargeting isn't new. However, brands must be smarter about their approach.
Through real-time bidding, marketers can display an individually generated, relevant advert to the consumer, perhaps showing products they have saved for later, or products that are compatible with previous purchases. Indeed, any other approach to retargeting is likely to be fruitless.
Ad content must be creative (in order to re-engage the customer), and should focus on additional product features that will help the consumer contextualise the purchase.
6. Use real-time data as well as RTB
Real-time bidding can place your adverts in front of an ideal audience at precisely the right time. Consumer engagement can be heightened by relating your content to particular events, but you need to be sure you can deliver the right content... and as many details as possible about the product you are advertising.
With AdAge reporting that Procter & Gamble will be buying 70% to 75% of its U.S. digital media programmatically by the end of this year, it's likely other marketers will follow suit. So make sure that product information is up-to-date, and in a usable format. You don't want to miss real-time opportunities.
7. Cross-promotion is crucial
Back up your display advertising in other channels to help to extend the personalised, targeted experience that it has already offered. Support online ads with a structured follow-up email and social targeting: not only does this offer consistency to the customer and a nudge down the sales funnel, it can provide retailers with extremely useful insights.
High quality product data is the key to unlocking the potential of display advertising. Improve the success of display advertising with the (more innovative) use of product data, consumer behaviour insights and real-time information.