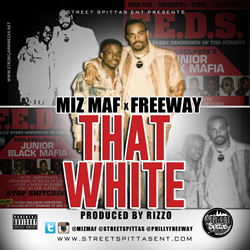 Top competitor in the Philadelphia rap scene.
Philadelphia, PA (PRWEB) July 16, 2014
Coast 2 Coast Mixtapes announce the release of the "That White" single by Miz MAF. This single track project is currently available for download on the Coast 2 Coast website. This single is a preview to Miz MAF's upcoming album and also features an appearance from Freeway.
Straight out of North Philly, the rapper and Street Spittas Entertainment artist Miz MAF (Money And Family) presents his newest single "That White" featuring Freeway and produced by Rizzo. A small sampling from his upcoming album "Behold A Pale Horse", set to feature production from Allen Iverson, Freeway, Will I Am, Tony Yayo, French Montana, Ras Kass, Maino and many more. Miz MAF, rapper from the streets of Philly, got his name Miz from those same streets and MAF is what he represents and is motivated by, Money And Family. Miz was heavily influenced by the music his uncle's would play and you can hear in his lyrics the similarities to Jay-Z, Ice Cube, 2Pac, Snoop Dogg, Nas, and Scarface. He has also done some work with artists such as Gillie Da Kid, Mossburg, Rich Quick, Dout Gotcha, and E.Ness among others. It was then in High School that Miz linked up with Ro, and together they created what's now known as Street Spittas Entertainment. Always on their grind, they work to produce mixtapes, albums, films, and live performances, making them a top competitor in the Philadelphia rap scene.
Miz MAF's music emphasizes the importance of family and the grind of street life. In his new single "That White" he depicts the everyday life of hustling in the streets, making money, doing what has to be done and the reality of it all. While making this song, Miz said he had an easy time writing his two verses since they were simply based on recollections of his own life. But he felt it needed another voice on it, someone with a different style, and he thought who else but "Mr. 1-900-Hustler himself...Freeway!". While on tour with Freeway, Miz MAF had reached out to him and he favorably agreed. The blended collaboration and illustrious rhymes on this track make for great expectations from the new album. Click here to watch a behind-the-scenes video of the making of "That White". Keep up with Miz MAF and the entire Street Spittas Ent on his twitter at @MizMAF.
About Coast 2 Coast Mixtapes
Coast 2 Coast Mixtapes are the most widely distributed mixtapes in the world, with over 100 million downloads/plays generated by over 200 volumes officially hosted by major artists. Coast 2 Coast has a solid reach in the new music industry with a digital magazine, DJ coalition, industry tips blog, yearly convention, and more. Coast 2 Coast Mixtapes represents a unique opportunity for artists of all urban genres, from major to indie. For more information, visit http://www.coast2coastmixtapes.com.