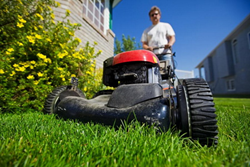 Burbank, CA (PRWEB) July 16, 2014
Business Insurance USA revealed new options for lawn care contractor general liability insurance coverage, ensuring that even the smallest companies can now afford to obtain general liability protection. Tailored to meet the needs of lawn care contracting companies and independent lawn care contractors, the commercial line of insurance provides financial and legal recourse if the company or independent contractor is held liable for injuries or damages.
"Lawn care contractors are at a high risk of being blamed when an accident happens," said Gary Fisher, Business Insurance USA's Executive Director, "particularly because they fulfill their contracts on location and cannot control everything that goes on around them. This customized general liability insurance coverage helps provide them with standard levels of financial and legal protection when they get blamed for something that goes wrong. Whether someone gets physically hurt or the customer's property is damaged, this coverage is designed to help."
Lawn care contractor general liability insurance provides financial security when unexpected accidents or events occur. A lawn care company may be blamed if a person is physically injured for example, or when property is damaged in or around the area the company is working in. When events of this sort happen, the customer may file a lawsuit against the lawn care contracting company, alleging that they are to blame and that they may pay reparations. If the company is deemed to be at fault by a court of law, then the liability insurance helps pay settlements, judgments and related legal bills.
Lawn care contractor liability insurance also protects the company when other allegations of liability or wrongdoing arise. In addition to covering the company for bodily injuries and property damages, commercial general liability insurance also protects against personal and advertising injury accusations – such as legal actions over copyright infringement. It helps financially and legally if lawsuits are filed due to work the contractor previously provided, or products he sold in the past. This coverage also protects against suits that arise due to damages to premises the company rents or leases for business use.
About Business Insurance USA
Business Insurance USA provides many types of business insurance coverage to a wide variety of professions and industries. The company can insure businesses in over twenty states, and policies can be tailored to meet specific needs. Commercial insurance coverage options include general liability, property protection, errors and omissions insurance, business auto coverage, workers comp insurance and surety bonds.
For more information, visit http://www.businessinsuranceusa.com.