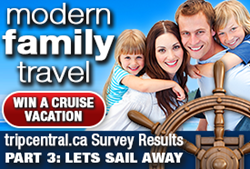 Hamilton, ON (PRWEB) July 16, 2014
According to a travel survey conducted by tripcentral.ca and Ipsos Reid, 53% of Canadian parents say cruising is an ideal family vacation. Despite this, only a quarter of moms and dads have actually taken a cruise in the past.
"I was not surprised at the level of interest in family cruising," says president, Richard Vanderlubbe, who claims much of the advance travel bookings for the later summer and fall are cruises for families. "In the past, Canadians rarely thought of cruising when it came to family vacations, but that is changing. Multi-generational cruising – cruising for the entire family, coming from many different parts of the country - is very popular."
Other key findings in the travel survey include:

13% of 13-15 year olds and 12% of 16-19 year olds chose cruising as an ideal vacation
39% of moms and 30% of dads would let their kids venture off on their own on a cruise ship at ages 9 to 12 while 54% are comfortable using a babysitting service for an evening
In response to this growing interest in cruising and understanding that cruising with family may be a first for many people, tripcentral.ca has announced Modern Family Travel: Let's Sail Away Contest where one very lucky Canadian winner will sail the Caribbean on a cruise-of-a-lifetime. The cruise is a package for 4 and includes airfare.
To enter the Let's Sail Away contest interested travellers are directed to visit tripcentral.ca's Facebook page http://www.facebook.com/tripcentral from July 16 to 30, 2014. Participants must complete a form with their contact details and one lucky family will be randomly selected on July 31, 2014.
Additional results from the tripcentral.ca and Ipsos Reid survey can be found at: http://www.tripcentral.ca/promos/Modern-Family-Travel-Survey-Part-3.html
About tripcentral.ca:
tripcentral.ca is an online leisure travel agency with retail store locations. The company employs more than 100 experienced travel agents who have actually experienced the destinations Canadian travellers are interested in visiting. tripcentral.ca sells all-inclusive vacation packages, last minute travel, flights, cruises, escorted tours, hotels & more.
For more information, please contact:
Pam DeHaan
Manager Marketing & Specialty Products
pamdehaan(at)tripcentral(dot)ca
905-570-9999 x 7380