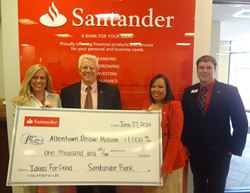 "To know that a gift like this came from the bank's customers makes it even more special," said Allentown Rescue Mission President & CEO Thomas Gibson. "It tells us that our work is creating a positive impact across the Valley."
Allentown, PA (PRWEB) July 17, 2014
An unexpected, but welcome gift arrived recently for the Allentown Rescue Mission armpa.org: a check for $1,000, courtesy of Santander Bank. Why? Because the financial institution's customers voted for it.
The initiative, part of Santander's "Ideas for Good" giving campaign, was created late last year to help introduce the bank's new name. At that time, customers voted at local branches for the community non-profit organizations they most wanted to receive donations. The Santander branches in Emmaus and Fullerton presented a check for $1,000 to the Allentown Rescue Mission on June 27th to cap the process.
Santander presented checks to over 500 non-profit organizations across its nine-state regional footprint. The mission, which relies heavily on individual giving to help rebuild and transform the lives of Lehigh Valley's homeless population, expressed deep gratitude for the donation.
"We are truly blessed to have corporate partners like Santander," said Allentown Rescue Mission President & CEO Thomas Gibson. "And to know that a gift like this came from the bank's customers makes it even more special. It tells us that our work is creating a positive impact across the Valley."