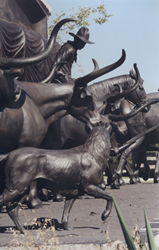 Duncan, OK (PRWEB) July 23, 2014
The National Day of the Cowboy celebration at The Chisholm Trail Heritage Center will be 10 a.m. to 5 p.m. Saturday, July 26, 2014. This is a free day where young'uns and the young at heart can come and have a fun time at the museum. The day is a state recognized holiday and always occurs on the fourth Saturday of July.
Plan to rope a Longhorn, ride a buckin' bronc, create your own brand and beat the heat in their 4d Experience Theater where you can watch the cattle stampede, cool off during a summer thunderstorm on the Oklahoma prairie and learn a little about life as a cowboy. Visit their Campfire Theater and listen to Jesse Chisholm and Tex share their campfire tales while some ruckus is made in the wagon as cowboys try to get comfortable for the night. Enjoy the day full of entertainment, games and this year's new addition, a photo booth.
Art lovers will delight in the Garis Gallery of the American West where they can view up close the prized works of George Catlin, Frederic Remington and Charles Russell. Other local and regional artists also are on display, including the work of Chad Payne.
This year's National Day of the Cowboy ties in with the Allan Houser: Legend Born Free and the Native American Cowboy history. Come see the art, learn the history and make some memories.
Entertainment will include Jordan Beartrack, age 10, an award winning Powwow dancer from Apache,OK who will perform at 11:30 am and 1pm. Throughout the day there will be Native American music as well. Tie Down Roper, Shane Slack of Idabel, OK will be onsite from 11 am to 2 pm to have his photo taken and sign autographs. Slack is a Choctaw, a PRCA Champion and former Indian National Finals Rodeo All Around Champion.
The Chisholm Trail Heritage Center, Oklahoma Travel Industry Association's RedBud Award Winner for Outstanding Attraction in 2012, and Merit RedBud Award Winner for Outstanding Temporary Exhibit in 2013 is one of southwest Oklahoma's gems that you do not want to miss experiencing. The National Day of The Cowboy is a perfect time to bring you and your family to Duncan, OK to experience the center and The Heart of The Chisholm Trail.
For more information contact The Chisholm Trail Heritage Center at http://www.onthechisholmtrail.com or The Duncan Convention and Visitors Bureau at 1-800-782-7167 or http://www.duncanok.org or http://www.duncancalendar.com.