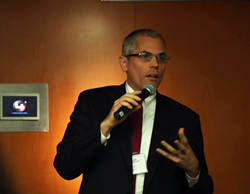 Chicago, IL (PRWEB) July 16, 2014
American Homeowner Preservation ("AHP") founder and CEO Jorge Newbery will be a panelist at the Global Real Estate Crowdfunding Conference III on Friday, July 18 at the Draper University of Heroes in San Mateo, CA. Other panelists include Jilliene Helman, the founder and CEO of Realty Mogul, as well as Benjamin Miller, a co-founder of Fundrise. The event is hosted by David Drake, Chairman of The Soho Loft Group, which is co-producing the event with FundingPost. This is the third in a series of conferences that interweave financial innovation with the real estate business.
"Developing New Markets Through Real Estate Crowdfunding" is the panel which will feature Newbery, AdaPia d'Errico of Patch of Land, Joey Jelinek of GroundBreaker, Adam Hooper of RealCrowd and Dewayne J. Lener of Ascenergy. The total value of all real estate in the U.S. is around 40 trillion and the total raised by real estate crowdfunding platforms to date is less than half a billion. Real estate crowdfunding is already being used to fund rehab loans for home flippers and provide equity for commercial and multifamily projects, distressed mortgage pool purchases and home buyer down payments. The panel will review how new frontiers can be developed to expand real estate crowdfunding's reach and impact.
Newbery will share AHP's experience crowdfunding the purchase of distressed mortgage pools. AHP offers 9 – 12% annual returns to accredited investors, with a $10,000 minimum investment. Struggling homeowners are offered sustainable solutions to avoid foreclosure and stay in their homes with reduced monthly payments and discounted principal balances.
"Real estate crowdfunding is an extraordinary vehicle to connect accredited investors with opportunities. The ease and speed of investing on the platforms is seductive," Newbery said. "The platforms can bypass fee-generating Wall Street bankers, often increasing yields to investors as a result. The modest minimum investment amounts enable accredited investors to diversify across multiple projects and platforms and earn returns which are above-market compared to bank CD's and more traditional income investment options."
"Crowdfunding is really taking real estate financing by surprise and the big players are taking notice. This real estate investing conference is a promising innovation to the financing and investing industry. We were compelled to bring people, entrepreneurs, investors, media and spectators to join in the talks in order to sharpen the game," Drake said.
For more details and to register, visit:
http://thesoholoft.com/conferences/global-real-estate-crowdfunding-conference-iii-san-francisco/
To learn more about American Homeowner Preservation, visit https://ahpinvest.com or call 800-555-1055.