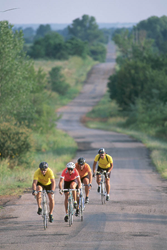 Duncan, OK (PRWEB) July 24, 2014
Rolling through the low hills of southwest Oklahoma, the Dehydrator is a fun ride with distances ranging from 10-80 miles. Participants will enjoy the beauty of rolling hills, plains and areas of Stephens County including a stretch across the Waurika Lake Dam while challenging themselves to the Dehydrator.
The ride features recreational, non competitive rides with five options including a 10 mile flat course, as well as 25,50,62 and 80 mile courses. The recreational courses are clearly marked, with route maps provided when participants pick up their ride packets on Friday, July 25 6-9 pm or the day of the ride beginning at 5:30 am. Stops provided approximately every 10 miles and there will be plenty of fluids, fruit and cookies.
The Dehydrator stages itself at Duncan's Simmons Center, a premier sports and activity center. Participants will be able to use the facility as part of their registration and have access to showers, a junior size Olympic swimming pool, saunas and a variety of other athletic equipment. A free meal is served to all entrants post race with their ride number. Massages post race will also be available for a donation.
Rain or shine, the ride will begin at 7 am from the center's north parking lot. All proceeds benefit the Duncan Public Schools Band programs so bring your sunscreen, your camera and your sweat to experience an awesome ride.
For more information or to register visit http://www.thedehydrator.org or contact The Duncan Convention and Visitors Bureau at 1-800-782-7167.