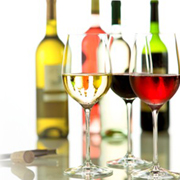 "By working with Lightning Labels, vintners can quickly produce high-quality labels for their wine bottles using a variety of materials and rich colors, all for an affordable price," said Scott Proctor, Vice President of Sales at Lightning Labels.
Denver, CO (PRWEB) July 16, 2014
Lightning Labels, custom label and sticker printing leader, is encouraging winemakers to jumpstart their branding with high-quality custom wine labels. Summer is the perfect time for vintners to take a fresh look at their wine labels. Wine is a popular summer beverage, as the warm weather is the perfect for social get-togethers such as cookouts, or bigger events like weddings. A light white wine or rosé is often the perfect refreshing drink for people who want to kick back and relax after a long, hot day.
However, if winemakers don't label their bottles appropriately, they may struggle to catch the eye of thirsty customers at liquor or grocery stores and other places they sell their wine. A well-made label will help wines stand out from competitors' bottles on store shelves.
"With summer in full swing, people are buying and consuming wine, regardless of whether it's for a specific social event or just because it's a refreshing drink," said Scott Proctor, Vice President of Sales at Lightning Labels. "By working with Lightning Labels, vintners can quickly produce high-quality labels for their wine bottles using a variety of materials and rich colors, all for an affordable price."
Custom Wine Labels Available in a Variety of Materials
Custom wine labels play an important role in supporting a wine brand's efforts to reach new consumers. Everyone has seen a unique wine label that has captured their attention. Even if they don't wind up buying that bottle, the label did its job of getting people to notice. There are two key components at work here:
•Aesthetic Appeal: First, successful wine labels must have interesting visual designs. Some contain simple images of animals, while others may feature picturesque vineyards and country sides where the grapes used to make the wine were grown. Others may leverage abstract imagery or simply focus on displaying the name creatively.
•High-Quality, Versatile Materials: Second, label material also plays an important role in establishing a wine brand. Paper stock can make a bottle look more elegant, while other materials may be built for durability in wine cellars. Estate #9 is perfect for embossing and foil stamping. Classic crest and cast gloss are other leading examples of popular wine label materials.
An elegant bottle label can significantly improve the value proposition of the wine itself, so vintners should design their labels carefully.
Wine Label Printing at a Competitive Price
With Lightning Labels, wine label printing doesn't have to be a time-consuming process or come at a significant cost. One of the advantages of digital printing is flexibility. By turning to Lightning Labels, winemakers can print thousands of different labels with unique designs or wording through variable data printing.
Additionally, orders can be turned around quickly, which is important if vintners produce a seasonal wine or want to take on special projects, such as crafting a custom wine label for a wedding.
Regardless of a winery's wine label needs, Lightning Labels can provide customizable and durable labels that catch consumers' attention.
Right now Lightning Labels is offering 10% off label orders plus a chance to win $500 in labels using promo code THANKS14 at checkout. Valid on new and reorders. Maximum discount is $1000. Free ground shipping applies to orders placed online only and shipped within the US & Canada. Enter code at checkout. This offer cannot be combined with other offers or promotions. No purchase necessary. Visit Lightning Labels.com for details.
About Lightning Labels:
Lightning Labels uses state-of-the-art printing technology to provide affordable, full-color custom labels and custom stickers of all shapes and sizes. From small orders for individuals, to the bulk needs of big businesses, Lightning Labels is equipped to handle and fulfill custom label and sticker projects of all types. Best of all, like the name implies, Lightning Labels provides a quick turnaround to every customers' labeling needs. Uses for Lightning Labels' custom product labels and custom stickers include food packaging and organic food labels, wine and beverage labels, bath and body labels, and nutraceutical products, such as vitamins, essentials oils, and herbal remedies, as well as event stickers, adhesive window stickers and more. Lightning Labels strongly supports the development of environmentally friendly printing materials and carries EarthFirst PLA, a new kind of green label material made from corn instead of petroleum. While operating as a high-tech printer, Lighting Labels prides itself on its personalized customer service. Lightning Labels provides one stop shopping for all of your custom label needs. For more information and to place orders online, visit LightningLabels.com. For the latest in packaging news and labeling promotional offers, find Lightning Labels on Twitter (@LightningLabels), Facebook, Pinterest, Google + and LinkedIn.