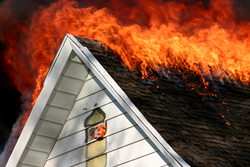 'Each year, about 150 home fires occur due to outdoor holiday lights, resulting in an average of 8 deaths, 14 injuries & $8.5 million in property damages. Usually fire is the result of electrical failures or malfunctions with lights.' -Dr. Joseph Mercola
Smyrna, North Carolina (PRWEB) July 15, 2014
"Each year, about 150 home fires occur due to outdoor holiday lights, resulting in an average of 8 deaths, 14 injuries and $8.5 million in property damages. Usually fire is the result of electrical failures or malfunctions with the lights," according to Dr. Joseph Mercola, New York Times Best-Selling Author and former guest specialist on the Dr. Oz Show. http://bit.ly/DangersofChristmasDecorations
Water damage or electrical shortages from outdoor Christmas lights is much more common than one may think, and is listed second only to indoor Christmas tree fires on Dr. Mercola's list entitled "The Dangers of Christmas Decorations." Fisherman Creations, Inc., manufacturer of patented fold-flat Crab Pot Trees ® will be offering a much safer solution this Christmas Season by using a patented waterproof light technology for the LED light portion of its line of pre-lit indoor/outdoor LED Christmas trees.
Company president Don Acree noted, "A small but significant portion of our trees are currently used for indoor display. Many people have allergies to live trees and even to certain chemicals in some artificial trees. Our trees are made of PVC coated galvanized wire and are used and recommended by many allergy prone people. The tree itself is also far less likely to catch fire than live trees and other artificial trees. This further reduces the likelihood of fire indoors or outdoors."
Just the thought of one life saved, or one home rescued from catastrophe - even more so during the Holiday Season - was enough to drive the company's determination to locate a source for the waterproof lights , raising the safety standards of his own company's products and hopefully energizing an Industry-wide movement. "We knew there had to be a better way. We just had to find them," Acree said. "One signature feature of our company is the love and care we put into each and every tree, which are still handmade by local fishing families, and local residents, providing income for local fishing families when their work is out of season. Our team is excited about now offering an added safety feature to our LED trees."
Christmas Decorations will be flooding stores as early as September, and Crab Pot Christmas Trees'® use of the only certified waterproof Christmas Lights available in the US will provide an added benefit. Because the new lights are sealed into the sockets there will be less chance for loose bulb-to-socket connections, helping users avoid the dreaded light string outage when beginning the next season. Most consumers just throw away a string with a loose connection instead of spending a great deal of time and effort attempting to identify the one "culprit".
U.S consumers are steadily drifting away from traditional incandescent lights towards LEDs. Though LEDs cost upwards of 50 % more than incandescent, LEDs typically last many years longer than incandescents. They also use only 1/10th of the energy. The higher investment will pay off handsomely over time. The 2014 line of LED Crab Pot Trees® will be outfitted with safer, waterproof LED lights which are also designed with durable lenses that are break, fade and chip resistant as well as waterproof. The lights are also LED, producing a more vibrant light source.
About Crab Pot Trees®:
First conceptualized by a "crabber" by profession in the small Southern fishing community of Davis, NC, Crab Pot Trees® was born with a sustainable concept: use the waste produced from building crab traps (crab pots) to turn it into something the locals would appreciate and adore. Patented in 2004, these artisan, hand-made Christmas Trees arrived at their current state: a patented flat-folding, pre-lighted Crab Pot Trees®, with a little history, a little heritage, and an overwhelming amount of local pride.
Photos are available by request by emailing info(at)crabpottrees(dot)com.
####