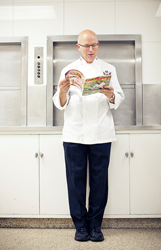 Working at the White House has inspired me to teach kids and their families easy, delicious, and healthful recipes
Watertown, MA (PRWEB) July 17, 2014
Bill Yosses has stepped down from his position as the White House pastry chef to join ChopChopKids, publisher of the award-winning ChopChop Magazine: The Fun Cooking Magazine for Kids. Yosses joins the nonprofit organization as Director of the ChopChop Cooking Lab, an initiative to introduce hands-on cooking instruction and nutritional literacy as a way to address the childhood obesity epidemic.
"Bill shares ChopChop's mission to inspire and teach kids to cook and eat real food with their families," said Sally Sampson, Founder of ChopChopKids. "His work with The First Lady made him realize that he wanted to pair his skills in the kitchen with his passion for science and get kids excited about both. The ChopChop Cooking Lab is about showing kids the joy that comes from cooking. We are thrilled to have him."
Yosses' interest in linking healthy food with delicious food began while working with First Lady Michelle Obama and her Let's Move initiative. Yosses was instrumental in establishing the White House Kitchen Garden and has a particular interest in weaving gardening and science. "Working at the White House has inspired me to teach kids and their families easy, delicious, and healthful recipes," said Yosses. "Working with Sally and ChopChop is a fantastic opportunity for me to do just that."
Yosses' first project as ChopChop Cooking Lab Director will be to develop and run a series of healthy cooking classes at select Boys & Girls Club Locations starting in July. Funded by Harvard Pilgrim Health Care Foundation, the ChopChop Cooking Lab will teach 8-12 year olds essential cooking skills, while integrating concepts in math, science, language arts and social studies.
About ChopChop
Endorsed by the American Academy of Pediatrics, ChopChop, The Fun Cooking Magazine for Families, is a nonprofit quarterly food magazine. Published by ChopChopKids, Inc, a 501(c)(3), ChopChop's mission is to inspire and teach kids to cook and eat real food with their families. Its vision is to reduce and prevent childhood obesity. ChopChop was named the 2013 Publication of the Year by the culinary industry's James Beard Foundation, and is the only non-profit publication to win the award. ChopChop is also the recipient of a prestigious gold award from the Parents' Choice Foundation, the nation's oldest nonprofit guide to quality children's media and toys. To learn more about ChopChop's mission, and to support the organization by subscribing to ChopChop Magazine or by donating to its cause, please visit http://www.chopchopmag.org. Follow ChopChop on Twitter at @ChopChopMag, on Facebook at facebook.com/ChopChopMagazine or on Pinterest at pinterest/ChopChopMag.